Saturday 13 August 2022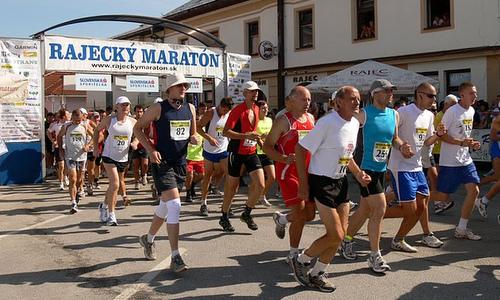 The Rajecký maratón is an annual road running event in the Žilina Region (Žilinský kraj) in the northern part of Slovakia.
It offers the following races:
400m, 2km kids' run
20.1km inline skating race
21.1km half marathon
21.1km half marathon for relay teams of four runners
42.2km marathon
The start/finish area is on the main square of Rajec, a small town situated in the lovely Rajčanka river valley, approximately 190 kilometres from Bratislava.
Both the half and the full marathon begin with a 2km loop through Rajec.
Then, the route runs out and back on a country road along the valley into the wooded Strážovské vrchy mountains.
The first half of the race is uphill (+100m of elevation gain in the half marathon, +200m in the full marathon) and the second half is downhill.
The turning point for marathon runners is in Čičmany, a village well known for its beautiful folk architecture.
The course remains open to traffic during the event.
Map of the venue:
39. Rajecký maratón:
Date:
13 August 2022 (Saturday)
Event website:
Number of finishers:
2022:

21.1km: 439 runners and 81 relay teams
42.2km: 154 runners

2021:

21.1km: 452 runners and 74 relay teams
42.2km: 153 runners

2020:

21.1km: 409 runners and 61 relay teams
42.2km: 177 runners

2019:

21.1km: 614 runners and 65 relay teams
42.2km: 208 runners
No guarantee is made as to the accuracy or thoroughness of the information on this page.