The Tusnad Marathon is a 23km point-to-point road running race in the Transylvania region in Romania.
The route is very scenic and very hilly, featuring about 520 metres of ascent and 230 metres of descent.
Held in Székely Land (or Szeklerland) a historic and ethnographic area inhabited mainly by Székelys (or Szeklers), a subgroup of Hungarians, the Tusnad Marathon is a truly multicultural event that attracts several hundred runners from different ethnicities.
The race begins at an elevation of approximately 660 metres in the small spa town of Băile Tușnad (Hungarian: Tusnádfürdő; pictured above) and ends at about 950 metres above sea level at Lacul Sfânta Ana (Szent Anna-tó), Romania's only volcanic crater lake (pictured below).
The highest point on the course is at an elevation of over 1,100 metres.
It is possible to run the race as an individual athlete or as a relay team of two or three runners.
After a break in 2020, the next Tusnad Marathon is scheduled to be held on 5 June 2021.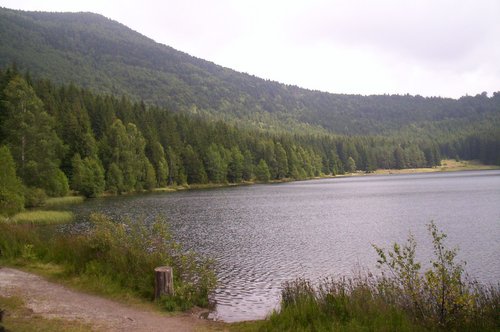 Map of the venue:
Number of finishers:
2020: Event cancelled
2019: 235 runners and 58 relay teams
2018: 357 runners and 76 relay teams
2017: 317 runners and 50 relay teams
12. Tusnad Marathon:
Date:
5 June 2021 (Saturday) -

Cancelled (?)
Event website (in Romanian, Hungarian and English):
www.tusnadmarathon.com (?)
No guarantee is made as to the accuracy or thoroughness of the information on this page.