Sunday 22 October 2023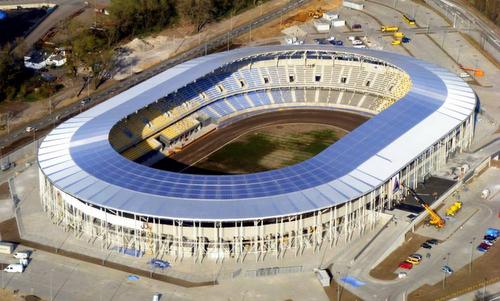 Held in Toruń, an old city of about 200,000 people in Poland, the Toruń Maraton offers a marathon (two laps), a half marathon (one lap) and children's races.
Formerly known as Maraton Toruński, it's a long-standing event that has been held since 1983.
The route is a 21.1km loop that begins and ends on the cinder track of the Motoarena speedway stadium (pictured) which is located on the western edge of the city, approximately four kilometres from the beautiful Old Town.
The course is relatively flat and fast, and it has been certified by PZLA, the Polish Athletic Association. The difference between the lowest and the highest point on the course is 41 metres. Each lap includes 84 metres of ascent.
More than half of the route runs through the vast forest in the north-western part of Toruń.
Map of the venue:
40. Toruń Maraton:
Date:
Race distance:
biegi dla dieci (children's races)
21.1km półmaraton (half marathon)
42.2km maraton (marathon)
Event website:
Number of finishers:
21.1km
42.2km

2022
499
404
2021
385
317
2020
Event cancelled
2019
412
463
2018
355
516
2017
361
538
No guarantee is made as to the accuracy or thoroughness of the information on this page.