Sunday 28 August 2022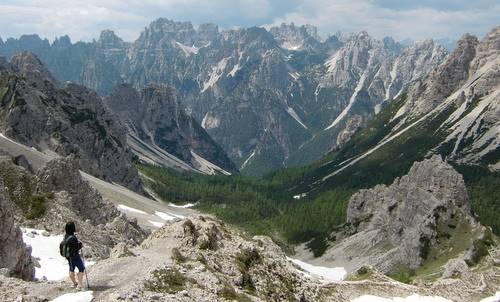 The Trail delle Dolomiti Friulane is a mountain running race held annually in late August in the Friuli Venezia Giulia region in the north-eastern part of Italy.
Starting at an elevation of 930 metres in the village of Forni di Sopra, one of the most popular skiing and hiking destinations in the region, the course is a 21-kilometre loop through the breathtaking scenery of the Friulian Dolomites.
The route is very demanding. It includes 1,700 metres of ascent and 1,700 metres of descent, partly over very steep and rough terrain.
The highest point on the course is on Forcella dell'inferno (pictured), at 2,173 metres above sea level.
Entrants must present a valid sports medical certificate at registration.
The event also offers a 7-kilometre uphill race (700m of ascent) for which you don't need such a certificate.
Map of the venue:
17. Trail delle Dolomiti Friulane:
Date:
Event website:
Number of finishers in the 21k race:
2022: 80
2021: 70
2020: Event cancelled. Virtual run only.
2019: 223
2018: 155
2017: 242
2016: 317
No guarantee is made as to the accuracy or thoroughness of the information on this page.