Sunday 24 October 2021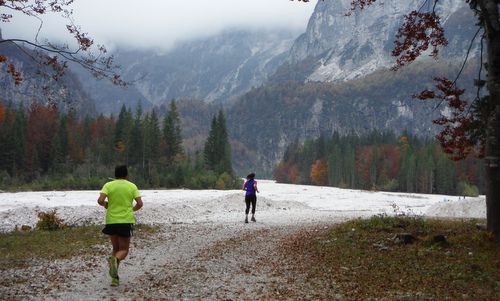 The Marcia 4 Passi in Val Saisera is a non-competitive running and hiking event held in the Val Saisera, a steep alpine valley in the Julian Alps.
Situated near the ski resort of Tarvisio in the north-eastern corner of Italy, not far from the borders with Austria and Slovenia, the Val Saisera was at the frontline between Italian and Austro-Hungarian troops during World War One.
It is now a tranquil unspoiled place and a beautiful destination for hiking in the summer and cross-country skiing in the winter.
Several tremendously-scenic routes are available, starting at an elevation of about 840 metres at the Parcheggio P1 (car park P1), approximately one kilometre south of the village of Valbruna.
The length of the routes may change a bit from year to year (2019: 6.8km, 14km and 22.6km; 2020: 6km and 11km, 2021: 7km, 12km and 19km).
All routes are a mix of trails and gravel roads, with hardly any asphalt. The routes are very undulating loop courses through the valley.
Participants can still decide on the course which distance they want to run (or walk). The registration fees are the same for all routes.
Be aware that this event is not a race. It's a marcia non competitiva, a fun run and walk without timekeeping or results lists, held under the auspices of the FIASP federation (Federazione Italiana Amatori Sport Per tutti).
Instead of racing hard through the valley, most participants take their time to enjoy the beautiful course and the many awe-inspiring vistas.
Map of the venue:
6. Marcia 4 Passi in Val Saisera
Date:
Venue:
Valbruna, Province of Udine, Italy (9km from Tarvisio, 40km from Villach, 85km from Udine, 111km from Ljubljana)
Start time:
Time limit:
The course will be closed at 13.30
Entries:
on the day in the start area (from 8.30 until 10.00)
Entry fees:
€3.50 (€3 for FIASP members)
Timekeeping:
This is a non-competitive event without timekeeping.
Number of participants:
2020: ?
2019: ?
2018: ?
2017: 940
Race information (in Italian):
No guarantee is made as to the accuracy or thoroughness of the information on this page.