Saturday 24 July 2021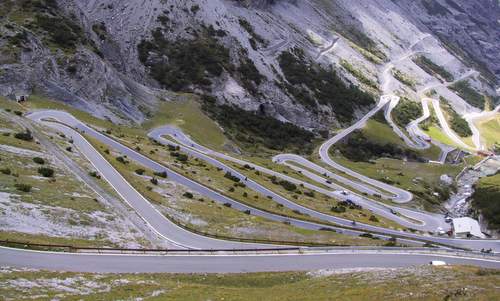 The Stelvio Marathon is a mountain running event in South Tyrol, an autonomous province in the far north of Italy where most residents are native speakers of German.
Three incredibly scenic uphill races are available:
14km Short Distance (+1,180m of ascent)
26km Classic (+2,400m of ascent)
42.2km Marathon (+2,500m of ascent)
All three routes finish on the Stilfserjoch (Italian: Passo dello Stelvio). Situated at 2,758 metres above sea level, the Stelvio Pass is the second-highest paved mountain pass in the Alps. It has featured 13 times in the Giro d'Italia bicycle race.
The 14km route begins at an elevation of 1,577 metres in the hamlet of Trafoi and takes runners through 45 hairpin turns of the Stelvio Pass Panorama Road, one of Europe's most impressive mountain pass roads (pictured).
The 26km and 42.2km races are started further down in Prad am Stilfserjoch (Italian: Prato allo Stelvio) which sits at an elevation of 915 metres in the Vinschgau (Val Venosta) valley. Both routes are a mix of asphalt roads, gravel roads and hiking trails.
The difference between these two races is that the 42.2km marathon begins with an undulating loop through the valley whereas the 26km route heads straight up to the Stelvio Pass.
In addition to the races for mountain runners the event offers a 26km Stelvio Hike (German: Stilfserjoch Marsch; Italian: Marcia Stelvio). Only hikers are allowed to use trekking poles.
Map of the venue (start area):
4. Stelvio Marathon:
Date:
Saturday 24 July 2021 (postponed from 19 June 2021)
Race distance (!):
Start area:
Prad am Stilfserjoch (915m)
Finish area:
Event website:
Archive:
Race information:
No guarantee is made as to the accuracy or thoroughness of the information on this page.