Sunday 21 November 2021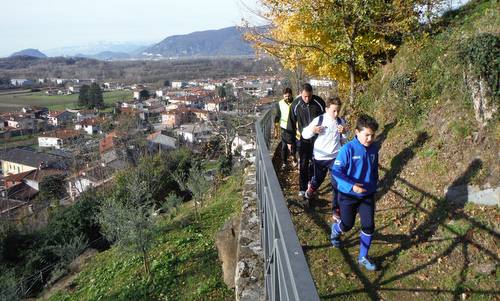 Corse Pignote is a very popular marcia non competitiva, a non-competitive running and hiking event, held annually in November or early December in the Friuli area in the north-eastern part of Italy.
On a fine day, the event attracts a crowd of 2,000 or more runners, hikers and nordic walkers to the village of Artegna which sits at the foot of the Julian Prealps, about 20 kilometres north of the city of Udine.
Two scenic routes are available, approximately 10km and 18km long.
Both routes are very hilly. Participants run or walk on mixed terrain (asphalt, cobbles, trails, gravel roads, stairs) through the village and through woods and farmland.
The 18km route also runs up to the beautiful Castello Savorgnan which was badly damaged in the 1976 Friuli earthquake, and finally reconstructed in 2013:
Map of the venue:
9. Corse Pignote:
Date:
21 November 2021 (Sunday)
Archive:
Event details:
No guarantee is made as to the accuracy or thoroughness of the information on this page.