Sunday 19 March 2023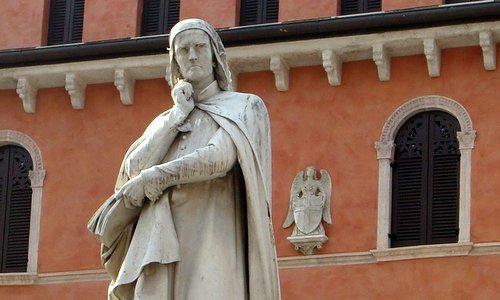 Dating back to the year 1208, the Palio di Verona is the world's oldest foot race. The event was held annually until the end of the eighteenth century. After a break of more than 200 years, it was revived in 2008.
Italy's great poet Dante Alighieri (ca. 1265-1321), a statue of whom stands on Verona's Piazza dei Signori (pictured), referred to the event in his famous "Divina Commedia" as the "Palio del drappo verde" ("Race of the Green Cloth").
The drappo verde is still awarded to the fastest man and woman. Other traditions have changed over the years. The last male finisher, for instance, does not receive a cock any more. And unlike in medieval times, participants don't run naked.
The race distance and the course have also changed many times.
In 2023, the route will begin and end in the park of the beautiful Villa Ca' Vendri in the village of Santa Maria in Stelle which is situated in the picturesque wine-and-olive-producing Valpantena valley, approximately eight kilometres from Verona's city centre.
The race will be an undulating and scenic 9km multi-terrain run.
Map of the venue:
604. Palio del Drappo Verde:
Date:
Event website:
Number of finishers:
2022: 125
2021: Event cancelled
2020: Event cancelled
2019: 232
2018: 228
Archive:
Race information:
No guarantee is made as to the accuracy or thoroughness of the information on this page.