Sunday 23 October 2022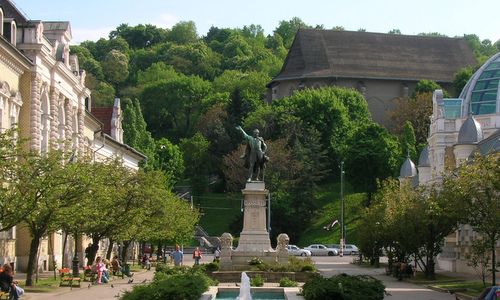 The Barátság Maraton (Friendship Marathon) is held on a 5.27km-long loop course through the city centre of Miskolc, a city of about 150,000 people located in the north-eastern part of Hungary.
These races are available:
5.27 minimaraton
10.5km kismaraton (little marathon)
21.1km félmaraton (half marathon)
4x5.27km félmaraton váltó (half marathon relay for teams of four runners)
42.2km maraton (marathon)
Starting on Városház tér (Town Hall Square), the route is gently undulating.
The event also offers two gyermekfutamok (kids' races), 600m and 1.8km long, which take place one day earlier.
Map of the venue:
21. Miskolci Barátság Maraton:
Date:
Event website:
Number of finishers:
2021:

5.27km: 210
10.5km: 135
21.1km: 51
4x5.27km relay: 25 teams
42.2km: 51

2020:

5.27km: 243
10.5km: 102
21.1km: 92
4x5.27km relay: 19 teams
42.2km: 35

2019:

5.27km: 229
10.5km: 128
21.1km: 81
4x5.27km relay: 26 teams
42.2km: 36

2018:

5.27km: 392
10.5km: 210
21.1km: 139
4x5.27km relay: 34 teams
42.2km: 74
No guarantee is made as to the accuracy or thoroughness of the information on this page.