Sunday 4 October 2020 - Cancelled!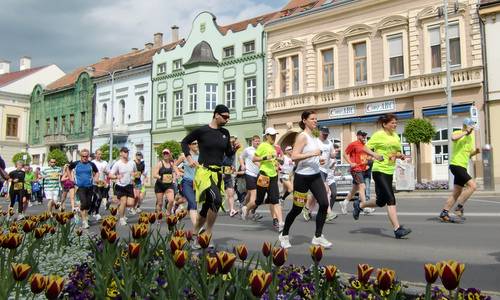 The Tapolca Félmaraton (Tapolca Half Marathon) is a road running event held annually in Tapolca, a former mining town of about 15,000 people in Hungary.
Located just twelve kilometres from the northern shore of Balaton, the largest lake in Central Europe, Tapolca is popular with visitors for its pretty Old Town and for its 'Lake Cave' under the town centre.
The event offers a 7k race, a 14k race (two laps), a half marathon (three laps) and a relay for teams of two runners (2x10.5km).
Starting and finishing at the Csermák József Rendezvénycsarnok (József Csermák Event Hall), which is situated in a residential area in the western part of Tapolca, the route takes the runners out and back through the town centre and across Fő tér, the main square (pictured), to the Új temető (New Cemetery) in the eastern part of the town.
The course offers fine views of the beautiful volcanic hills of the Bakony region.
Map of the venue:
Number of finishers:
2019:
2018

5.2km: 96
10.5km: 113
21.1km: 120
21.1km relay: 17 teams
10. Tapolca Félmaraton:
Date:
4 October 2020 (Saturday) - Cancelled!
Event website:
Archive:
Photo report and results:
No guarantee is made as to the accuracy or thoroughness of the information on this page.