Saturday 7 October 2023
The Fichtelberglauf is a mountain running event in the Ore Mountains (German: Erzgebirge; Czech: Krušné hory) which stretch along the border between Germany and the Czech Republic.
The route is 9.1 kilometres long and includes about 550 metres of ascent.
Starting in Neudorf (714m), a village in the municipality of Sehmatal in the state of Sachsen (Saxony), the route runs through spruce forests to the ski resort of Oberwiesenthal (914m) and then up to the summit plateau of the Fichtelberg (1,215m), the highest mountain in the German part of the Ore Mountains.
Approximately one third of the course is on asphalt and two thirds on gravel or trails.
The race was held every single year from 1987 up to 2019. In 2020 and 2021, the event had to be cancelled due to Covid-19 restrictions.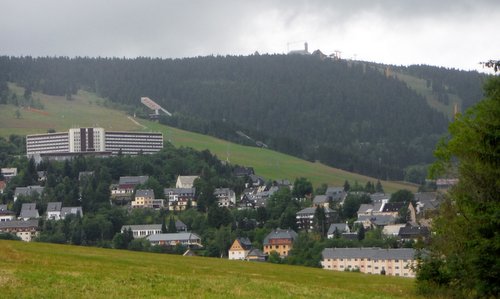 Oberwiesenthal and the Fichtelberg
Map of the venue (start area):
35. Fichtelberglauf:
Date:
7 October 2023 (Saturday)
Event website:
Number of finishers:
2022: 117
2021: Event cancelled
2020: Event cancelled
2019: 219
2018: 225
2017: 240
2016: 220
2015: 298
2014: 244
No guarantee is made as to the accuracy or thoroughness of the information on this page.