Sunday 26 September 2021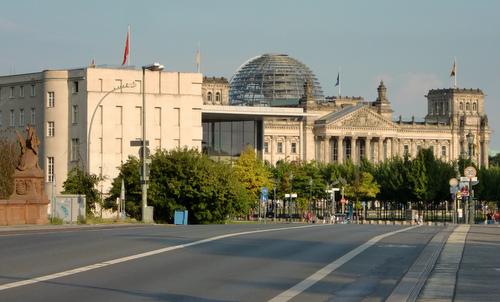 With more than 40,000 runners taking part, the Berlin Marathon is Germany's most popular running event.
It is so popular that you need to apply for a bib more than ten months before the race. But even then you can't be sure that your registration will be accepted.
If you have not qualified for the race as a fast runner you will have to hope to be lucky in the draw.
After that, you can still try to get a bib through a tour operator or a charity partner of the event.
The route:
The 42.195km course is mainly flat and fast, but it is not pancake flat. The difference between the lowest and the highest point on the course is approximately 20 metres.
The race begins and ends in the vast Tiergarten park in the former West Berlin. The start and the finish lines are about 850 metres apart.
At first, participants run along the wide Straße des 17. Juni boulevard to the university campus of the Technische Universität, passing the imposing Siegessäule (Victory Column).
Then, the route takes the runners through the Regierungsviertel (government quarter, pictured) into Berlin-Mitte, the heart of the former East Berlin.
It passes the Friedrichstadt-Palast (8km), which is home to the world's largest theatre stage, it runs along Torstraße with its many small shops, cafes and bars, and it visits the Stalinist-Empire-style buildings on Strausberger Platz (12km).
Next, the route runs through the "multikulti" district of Kreuzberg in West Berlin, but unfortunately it bypasses the liveliest and prettiest areas.
The second half of the route begins with a long loop through the green and affluent south-western part of the city.
After that, participants run along the Kurfürstendamm boulevard and through West Berlin's city centre (35km) before they pass the 1960s Neue Nationalgalerie and the Berliner Philharmonie, as well as the modern high-rise buildings on the redeveloped Potsdamer Platz (38km).
Back in East Berlin, the route visits one of Berlin's best historic sights, the Gendarmenmarkt square (40.5km).
Finally, competitors run along the Unter den Linden boulevard and through the famous Brandenburger Tor (Brandenburg Gate) to the finish line at the Sowjetisches Ehrenmal (Soviet War Memorial).
The time limit to complete the course is 6 hours 15 minutes.
Map of the venue (blue: start; red: finish):
Number of finishers:
2020: Event cancelled due to coronavirus outbreak
2019: 44,093 runners (30,801 men and 13,292 women)
2018: 40,774 runners (28,444 men and 12,331 women)
2017: 39,101 runners (28,067 men and 11,034 women)
2016: 36,054 runners (26,807 men and 9,247 women)
Berlin Marathon 2021:
Date:
Event website (in German and English):
No guarantee is made as to the accuracy or thoroughness of the information on this page! Please visit the official event website to verify the above information.