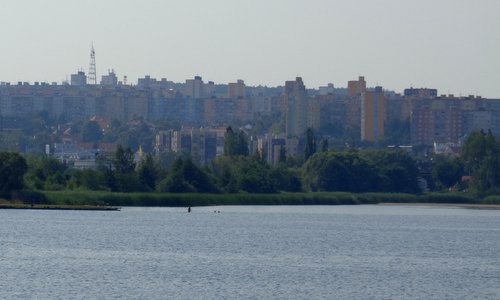 The Maraton okolo Boleváku ("Marathon around Bolevák") takes place in Czechia's fourth-largest city, Plzeň, which is in many countries better known as Pilsen.
In 2017, the event was held five times (in January, February, March, April and December) and in 2018 twice (in March and in December).
In 2019, it will be held again on two occasions:
Saturday 2 March 2019: Plzeňská padesátka, Březnový maraton, půlmaraton a běh na 10 km okolo Boleváku (Pilsen 50k, marathon, half marathon and 10k race)
Sunday 22 December 2019: Vánoční maraton, půlmaraton a běh na 10 km okolo Boleváku (Christmas marathon, half marathon and 10k race)
The route runs around the Velký Bolevecký rybník (or Bolevák), the largest of the Bolevec Lakes, which were created in the fifteenth century.
Situated approximately three and a half kilometres to the north of Plzeň's historic centre, Bolevák is a popular place for leisure and recreation all year round.
One lap around the lake is 3,230 metres.
The 10k is three laps plus 310 metres, the half marathon is six laps plus 1,720 metres, the marathon is thirteen laps plus 205 metres, and the 50k is fifteen laps plus 205 metres plus a 1,345-metre out-and-back run.
Starting at the Autocamp Ostende at the western end of the lake, the race is run on a mix of asphalted and paved cycleways and footpaths. The route is flat.
Event website:

Map of the venue:
Archive:
Race information:
No guarantee is made as to the accuracy or thoroughness of the information on this page.