Saturday 7 August 2021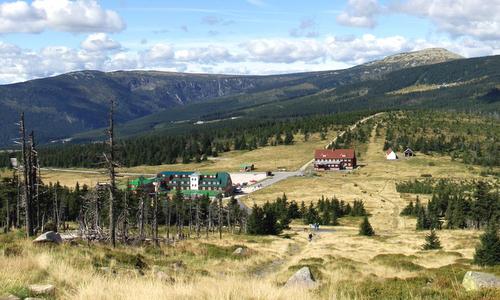 The Krkonošská padesátka is a trail running event held annually in the Krkonoše, the highest mountain range in the Czech Republic, located on the border with Poland.
Three races are available: 8km, 21km and 50km.
Be prepared for a real challenge! The 8k route features approximately 200 metres of ascent, the 21k route 1,040 metres, and the 50k ultramarathon 2,070 metres.
The highest point on the 21k and 50k courses is at an elevation of just under 1,300 metres.
All three routes begin and end in the ski resort of Špindlerův Mlýn (German: Spindlermühle) which sits at an elevation of about 700 metres on the banks of the Labe (Elbe), one of Central Europe's major rivers.
The Labe rises from a spring in the mountains above Špindlerův Mlýn, so it's still a small stream in these parts.
Map of the venue:
Number of finishers:
2021:

8km: 25
21km: 99
50km: 167

2020:

5km: 46
21km: 177
50km: 232

2019:

5km: 41
21km: 150
50km: 171
Krkonošská padesátka 2021:
Date:
Race distance:
8km (+200m/-200m)
21km (+1,040mm/-1,040m)
50km (+2,070m/-2,070m)
Event website:
No guarantee is made as to the accuracy or thoroughness of the information on this page.