Saturday 15 April 2023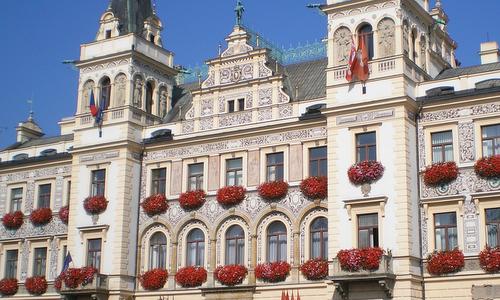 The Pardubický vinařský půlmaraton (Pardubice Wine Half Marathon) is held annually in Pardubice, a city of about 90,000 people, located in a low-lying area on the Labe (Elbe) river in the Czech Republic, approximaty 100 kilometres east of the capital Praha (Prague).
In the world of sports, Pardubice is mainly known for its steeplechase horse races and its passionate ice hockey fans but the half marathon has also left its mark with more than 1,000 runners taking part in the race in the years before the Covid-19 restrictions.
Starting just outside Pardubice's historic core, participants run two laps of a flat and accurately-measured course through old and modern parts of the city.
At the end of the race, competitors run through the 16th-century zelená brána (Green Gate) to the finish line in front of the magnificent radnice (Town Hall; pictured) on the beautiful Pernštýnské náměstí (Pernštejn Square) in the Old Town.
In addition to the half marathon, the event offers a 10k race and a 1.7k run for runners of all ages.
Map of the venue (finish area):
Pardubice Wine Half Marathon 2023:
Date:
Event website:
Number of finishers:
2022:

10.5km: 369 runners
21.1km: 783 runners, 23 handbikers, 51 kickscooter riders

2021:

10.5km: 195 runners
21.1km: 451 runners, 28 handbikers, 52 kickscooter riders

2020:

10km: 103 runners
21.1km: 326 runners, 4 handbikers, 57 kickscooter riders

2019:

10km: 468 runners
21.1km: 1,260 runners, 19 handbikers, 147 kickscooter riders
No guarantee is made as to the accuracy or thoroughness of the information on this page.