Sunday 17 May 2020 - Cancelled!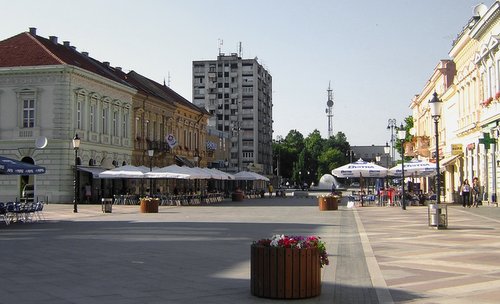 The Bromara (or Brodski polumaraton) is a rather small running event with just about 100 participants.
Held each year in May in Slavonski Brod, a city of around 60,000 people in the Slavonia region in the eastern part of Croatia, the event offers a half marathon race that is open to individual runners and relay teams (2x10.55km).
The start and the finish line are on Trg Ivane Brlić-Mažuranić (pictured above), Slavonski Brod's main square, situated on the left bank of the Sava.
Across the river is the town of Brod which is in Bosnia and Herzegovina.
The route is flat and fast as it runs out and back along the Sava and through woods and fields east of Slavonski Brod.
Map of the venue:
17. Bromara:
Date:
Number of finishers:
2019: 46 individual runners, 10 relay teams
2018: 78 individual runners, 7 relay teams
2017: 89 individual runners, 30 relay teams
2016: 70 individual runners, 10 relay teams
Event details:
No guarantee is made as to the accuracy or thoroughness of the information on this page.