Sunday 18 September 2022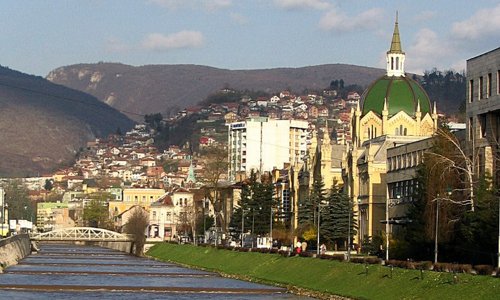 This polumaraton (half marathon) is held annually in September in the vibrant Balkan city of Sarajevo, capital of Bosnia and Herzegovina.
A new, certified two-lap course was introduced in 2021, starting on the pedestrianized Ferhadija Street between two of Sarajevo's greatest monuments, Begova džamija and Ferhadija džamija, both 16th-century mosques, located in the oldest part of the city.
The finish line will be on Trg Susan Sontag (Susan Sontag Square) in front of the Narodno pozorište (National Theatre), about 700 metres from the start area.
Map of the venue:
Sarajevo polumaraton 2022:
Date:
18 September 2022 (Sunday)
Race distance:
350m Bambini maraton (on Saturday)

3.3km Fun Run
21.1km Polumaraton (half marathon)
21.1km Štafetni polumaraton (relay: 6km+8km+7km)
Event website:
Number of finishers:
2022:

21.1km: 689 runners
21.1km relay: 86 teams

2021:

21.1km: 518 runners
21.1km relay: 57 teams

2020:
2019:

21.1km: 1,040 runners
21.1km relay: 94 teams

2018:

21.1km: 711 runners
21.1km relay: 52 teams
No guarantee is made as to the accuracy or thoroughness of the information on this page.