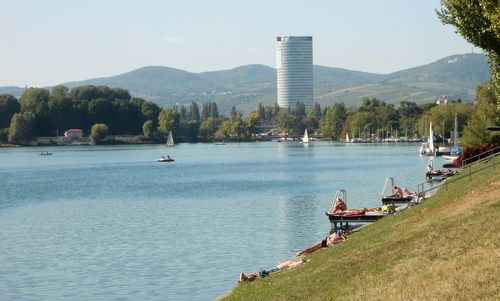 The Donau Zentrum Halbmarathon is a half marathon road race that takes place annually in the spring in the north-eastern part of Austria's capital city Wien (Vienna).
In 2017 and 2018 the event was called Wiener Halbmarathon. Until 2016 it was known as Wien Energie Halbmarathon.
Starting on Wagramer Straße in front of the Donau Plex cinema (next to the Donau Zentrum shopping centre), participants run three laps around the northern part of the Alte Donau.
The "Old Danube" was a section of the Danube before major river engineering works were carried out in Vienna in the 1870s. These days, it's a lake and a popular recreational area.
In addition to the half marathon, the event offers a 7km run (one lap), a 14km run (two laps), a half marathon relay for teams of three runners (3x7km), children's races and a 7km race for nordic walkers.
Update (December 2019):
It has been announced that the 20th Donau Zentrum Halbmarathon, which was held on 28 April 2019, was the last and final edition of the race.
Map of the venue:
Number of finishers:
2019:

7km: 296
7km nordic walking: 110
14km: 163
21.1km: 576
21.1km relay: 33 teams
20. Donau Zentrum Halbmarathon:
Date:
Event website:
www.halbmarathon.at

(out of date)
No guarantee is made as to the accuracy or thoroughness of the information on this page.