19° Giro Lago di Resia 2018
Graun (Curon), Italy, Saturday 14 July 2018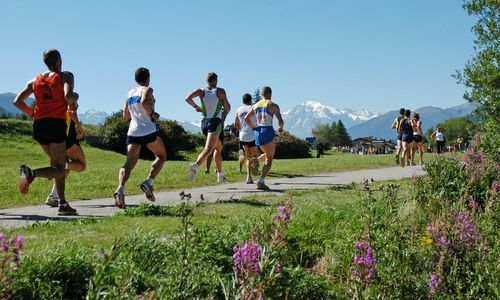 General information and map of the venue: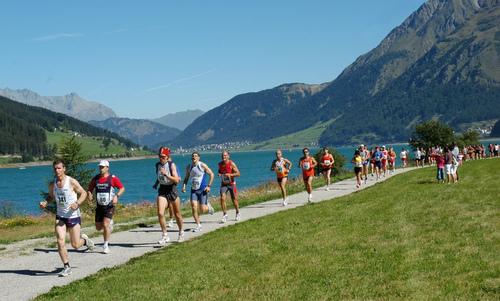 Race information:
Date:
Country:
Region:
Trentino-Südtirol (Italian: Trentino-Alto Adige)
Venue:
Graun im Vinschgau (Italian: Curon Venosta): 102km from Bolzano, 123km from Innsbruck, 212km from Munich, 248km from Verona
Start/finish area:
near the submerged church
Race distance:
150m-300m-600m-1.1km-2.2km:
15.3km


runners:

competitive race: Hauptlauf (Italian: gara principale)
non-competitive run: Just for Fun

nordic walkers
handbikers
Start time:
13.30: children
16.57: handbikers
17.00-17.20: runners

17.20: nordic walkers
Bib pick-up:
in the start/finish area (Friday 14.00-20.00, on the day 8.00-16.00)
Entries:
online (up to 6 July 2018)
late entries on 13 and 14 July 2018
Entrants to the 15.3km race (Hauptlauf / gara principale) must provide a valid medical certificate for athletics.
Just for Fun runners, nordic walkers, handbikers and children don't need to produce a medical certificate.
Entry fees:
children:
15.3km:

€35 (up to 6 July 2018)
€50 (on 13 and 14 July 2018)
You get:
a bag
goodie bag
snacks and drinks on the course and at the finish
bib chip timing
free massage service (bring your own towel!)
a medal and a product prize to all children
showers
bag storage (15.00-20.30)
certificate (online)
engraved medal: €10
parking: €2 on the day of the race
Prizes:
children's races: product prizes to the first three in each age group
15.3km handbike race: product prizes to the first ten handbikers
15.3km Hauptlauf: product prizes to the first ten men and ten women and to the first five in each age group
Award ceremony:
children: at 15.00
15.3km: at 21.00
Number of finishers 2017: 3,835
2,443 runners (competitive race)
912 runners (non-competitive run)
165 walkers
5 handbikers
304 children
6 Special OIympics runners
Winners 2017:
15.3km men: Emanuele Repetto (0:49:33)
15.3km men: Emmie Collinge (0:52:54)
Event website (in German and Italian):
No guarantee is made as to the accuracy or thoroughness of the information on this page! Please visit the official event website to verify the above information.