Jáchymov (Czech Republic), Saturday 28 May 2016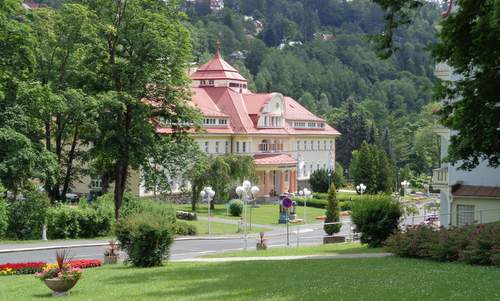 The Běh o 106 is a new mountain running event in the Krušné hory (Ore Mountains), a mountain range on the border between the Czech Republic and Germany.
It's a relatively short (6.6km) yet challenging uphill race (644m of elevation gain).
The route begins at an elevation of 589m in the old spa and mining town of Jáchymov which is situated less then twenty kilometres from the world-famous spa of Karlovy Vary (Carlsbad).
The race takes the runners on forest trails and ski slopes up to the finish on the summit of Klínovec, the highest peak of the mountain range (1244m).
Last year, 50 runners took part in the inaugural Běh o 106.
This year, the organizers intend to offer also a 16km race with about 900m of ascent and 250m of descent (Běh o 106 MAXI) but it will only be held if there are at least ten entries for this route.
The 16km race will be cancelled if there are less than ten entrants. In that case, all runners will be registered for the 6.6km race.
Update (24 May 2016): So far, 13 runners have registered for the Běh o 106 MAXI.
Country: Czech Republic
Venue (Map): Jáchymov (Karlovy Vary 19km, Chemnitz 67km, Pilsen 98km, Prague 141km)
Date: 28 May 2016 (Saturday)
Start time and race distance:
11.30: 16km (Běh o 106 Maxi) — only if there are 10 or more participants
12.00: 6.6km (Běh o 106)
12.30: 0.5km-2km-3km-4km (Běh o 106 Mini - children 15 years or under)
Start: Lázeňské centrum Agricola (Spa Centre Agricola), T.G.Masaryka, Jáchymov
Finish (6.6km, 16km): on the summit of Mount Klínovec (1244m)
Race centre: Lázeňské centrum Agricola (on the day 8.30-11.00)
Entries: online (up to 14 May 2016 for the 6.6km and 16km races, up to 25 May 2016 for the children's races); late entries on the day
Entry fees (16km): 160 CZK (up to 16 May 2016), 250 CZK (on 28 May 2016)
Entry fees (6.6km): 106 CZK (up to 16 May 2016), 250 CZK (on 28 May 2016)
Entry fees (children's races): 20 CZK (children born 2007-2016), 30 CZK (children born 2001-2006)
You get: timekeeping, refreshments on the course and at the finish, transport of personal clothing from the start to the finish area, chairlift and shuttle bus service from the finish back to the start area, free entry to the pools of the Aquacentrum Agricola (for one hour), a souvenir gift
Prizes: to the first 3 in each age group (6.6km, children's races), to the first 3 M/F (16km)
Award ceremony: at 15.30 at the Lázeňské centrum Agricola in Jáchymov
Number of finishers 2015: 50 (6.6km)
Event website: beh-o-106.webnode.cz
No guarantee is made as to the accuracy or thoroughness of the information on this page! Please visit the official event website to verify the above information.