Bad Radkersburg (Austria), Saturday 4 June 2016
Well, all right, the Wüstenlauf ("Desert Run") is set in Austria in the heart of Europe, not in Rajasthan, but it nevertheless deserves its name.
The event is held in a low-lying region in the state of Steiermark (Styria) which gets more sunshine than any other region in Austria. The sun can be blazing hot when the race kicks off at 3.30pm, and there's not much shade on the course. And in the finish area there's a Wüstenfest with belly dancers and camel riding for the kids.
Several race distances are available:
1km Kinderlauf (Children's Run)
8.7km Wasserlauf ("Water Run")
13.6km Dörferlauf ("Village Run")
21.1km Wüstenlauf ("Desert Run") — Halbmarathon (half marathon)
9.5km Nordic Walking
Starting and finishing on the main square of Bad Radkersburg, a spa town on the border with Slovenia, all routes are flat and fast, mostly on cycleways and roads through sun-baked corn and pumpkin fields. A short section is on gravel.
The course is AIMS-certified and traffic-free.
The entry fees include a technical T-shirt and free entry to the thermal indoor and outdoor pools of the Parktherme spa in Bad Radkersburg.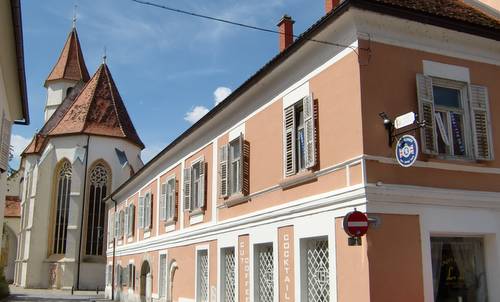 Bad Radkersburg is home to many beautiful buildings. This is the Stadtpfarrkirche.
Country: Austria
Venue (Map): Bad Radkersburg (Maribor 41km, Graz 77km, Zagreb 130km, Vienna 207km)
Date: 4 June 2016 (Saturday)
Race distance: 1km (children), 8.7km, 13.6km, 21.1km; 9.5km (nordic walking)
Start time: 15.00 (children), 15.30 (8.7km, 13.6km, 21.1km), 15.40 (nordic walking)
Start and finish: Hauptplatz, Bad Radkersburg
Race centre: Congresszentrum Zehnerhaus, Hauptplatz (Friday 3 June 2016, 12.00-20.00; on the day 9.00-13.30)
Entries: online; late entries on the day
Entry fees (8.7km/13.6km): € 24 (up to 28 May 2016), € 31 (up to 4 June 2016)
Entry fees (21.1km): € 27 (up to 28 May 2016), € 34 (up to 4 June 2016)
Entry fees (nordic walking): € 22 (up to 28 May 2016), € 29 (up to 4 June 2016)
Timekeeping: SMC Timing (€ 3 chip rental fees + € 20 deposit for the chip)
You get: technical T-shirt, free entry to the Parktherme, voucher for an entry ticket to the Parktherme (valid until 19 December 2016), drinks on the course, entry into the prize drawing, massage service
Prizes: to the first 3 M/F (8.7km, 13.6km, 21.1km); to the first 3 in each age group (21.1km)
Award ceremony: at 19.00
Number of finishers 2015: 373 (8.7km), 132 (13.6km), 218 (21.1km), 40 (nordic walking)
Event website: www.parktherme.at/service/veranstaltungen/parktherme-wuestenlauf
No guarantee is made as to the accuracy or thoroughness of the information on this page! Please visit the official event website to verify the above information.