Špačince (Slovakia), Saturday 2 July 2016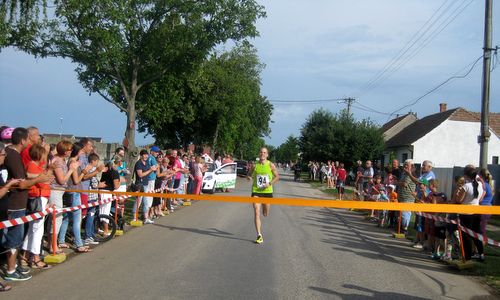 The Špačinský trojuholník ("Špačince Triangle") is a 10k road race that has been held every year in early summer since 1978.
The race follows an undulating triangle-shaped course through agricultural land on the wide Danubian Lowland in western Slovakia.
Starting in the village of Špačince, the first 4.8 kilometres are run on the main road towards the city of Trnava. Then, the route turns left towards Malženice, and left again to the finish line at the football pitch in Špačince.
The course is marshalled but it's not closed to traffic during the race.
Although the entry fees are very low (€ 2 on the day) there are plenty of prizes for the best finishers in each age group.
Over the last 38 years, the event has attracted runners from many different countries. Last year, on a very warm day, Slavomír Košík (35 minutes 15 seconds) and Petra Fašungová (37 minutes 55 seconds) led a field of 119 runners across the finish line.
This video on the Špačinský Trojuholník 2015 shows what it's all about.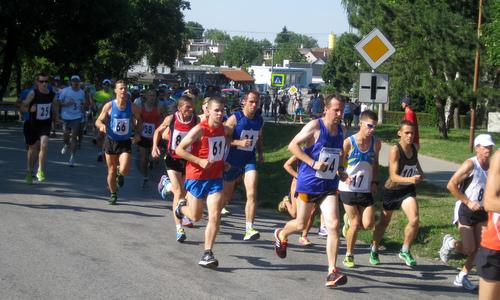 Photos by courtesy of Marta Országhová
Country: Slovakia
Venue (Map): Špačince (Trnava 7km, Bratislava 57km, Vienna 125km, Brno 132km)
Date: 2 July 2016 (Saturday)
Race distance: 10km
Start: at 17.00 in the centre of the village
Finish: at the football pitch on Sportová Street
Race centre: at the sports hall of the primary school (on the day 15.15-16.15)
Entries: in person on the day of the race
Entry fees: € 2
You get: drinks along the course, entry into the post-race prize drawing
Changing facilities: yes
Prizes: to the first 3 M/F and to the first 3 in each age group (prizes are not cumulative)
Award ceremony and prize drawing: at 18.45 on the football pitch
Number of finishers 2015: 119
Race information (in Slovak): 39. Špačinský trojuholník 2016 (PDF)
No guarantee is made as to the accuracy or thoroughness of the information on this page.