Přední Výtoň (Czech Republic), Saturday 2 May 2015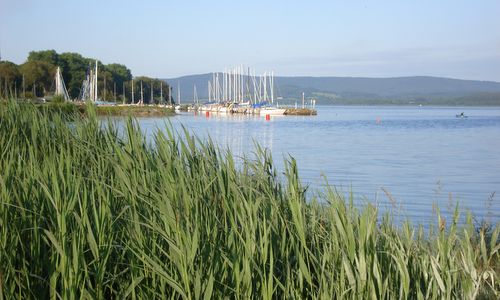 This running and inline skating event is staged at the Lipno Reservoir (Vodní nádrž Lipno), the Czech Republic's largest lake, located at an elevation of 725 metres above sea level in the Bohemian Forest (Šumava) mountain range near the borders with Austria and Germany.
Lipno is a popular holiday destination for cyclists and inline skaters as the lake is encircled by beautiful cycleways and woods.
The children's races and the 10k race (Výtoňská desítka) begin and end in the village of Přední Výtoň on the southern shore.
The 10k is an out-and-back run to the Lipno Dam, an impressive 300-metre-long dam across the Vltava river.
Participants in the half marathon (Lipenský půlmaraton) take the bus from Přední Výtoň to Frýdava and then the ferry (included in the entry fees) to get to the start in the town of Frymburk on the northern shore.
Starting at 9.30am, they run eastwards to the Lipno Dam and then westwards along the southern shore — passing the finish area in Přední Výtoň — to Frýdava, from where they run back to the finish.
Race information:
Country: Czech Republic
Venue (Map): Přední Výtoň (48km from Linz, 67km from České Budějovice, 83km from Passau, 217km from Prague)
Date: 2 May 2015 (Saturday)
Race distance: 42m/300m/600m/900m (children's races); 10km (run; inline skating); 21.1km (run)
Start time: 8.30 (10km inline skating); 9.30 (21km run); 10.00-11.30 (children's races); 12.00 (10km run)
Start and finish: Areál letních sportů, Přední Výtoň
Race centre: in the start area (7.00-9.00: 10km inline skating and 21km run; 9.00-11.30: children's races and 10km run)
Entries: online; late entries on the day
Entry fees (children's races): 20 CZK (up to 20 minutes before each race)
Entry fees (10km): 100 CZK (up to 25 April 2015); 150 CZK (up to 2 May 2015)
Entry fees (21km): 200 CZK (up to 25 April 2015); 250 CZK (up to 2 May 2015)
Exchange rate: 100 CZK = ca. 3.64 EUR (April 2015)
You get (not guaranteed for entries after 25 April 2015): bus and ferry transport to the start in Frymburk (for half marathon runners); snacks and drinks on the course and after the race, a bottle of wine
Prizes: to the first 3 in each category
Award ceremony: at 13.30
Number of finishers 2014: 57 (21km)
Event website: www.classic-cup.cz
We do not organize this event. No guarantee is made as to the accuracy or thoroughness of the information on this page.