24th 'Osolnik Mountain Race' 2015
Godešič (Slovenia), Sunday 17 May 2015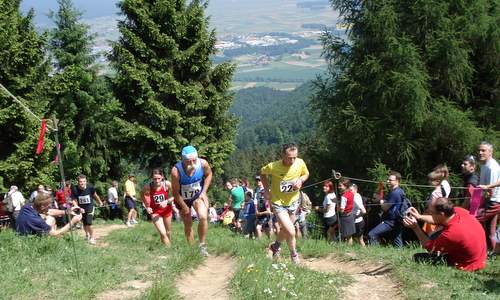 Staged in the wooded hills between Slovenia's capital Ljubljana and the Julian Alps, the Gorski tek na Osolnik is one of Slovenia's most prestigious and atmospheric mountain running events.
With 525m of ascent over a 4.7km route the race is a true test for every runner.
The route begins in the village of Godešič, which is approximately 20km from Ljubljana and just about 4km from the picturesque old town of Škofja Loka.
The first part of the race is a flat run on asphalt roads but then comes a 3km-long steep climb on forest trails to the finish line on the summit of Osolnik (858m), a densely wooded hill with a church on top.
Every year, the event attracts a number of Slovenia's best mountain runners. In 2014, the fastest finishers were Simon Alič (25:05) and Lea Einfalt (30:23).
Race information:
Country:
Venue (Map):
Godešič (19km from Ljubljana, 72km from Klagenfurt, 109km from Trieste, 160km from Zagreb)
Date:
Race distance:
Start:
Finish:
at the church on the summit of Mount Osolnik (858m)
Race centre:
Dom krajevne skupnosti Godešič (on the day 10.00-11.30)
Entries:
online (up to 14 May 2015)
late entries on the day (10.00-11.30)
Entry fees:
€10 (up to 14 May 2015)
€15 (up to 17 May 2015)
Prizes:
to the first 10 men and 5 women and to the first 3 in each category
Award ceremony:
at 16.00 on the football pitch in Godešič
Number of finishers 2014:
4.7km: 89
children's races: 48
Event website:
Race report, results and photos:
No guarantee is made as to the accuracy or thoroughness of the information on this page.