Brașov (Romania), Saturday 25 April 2015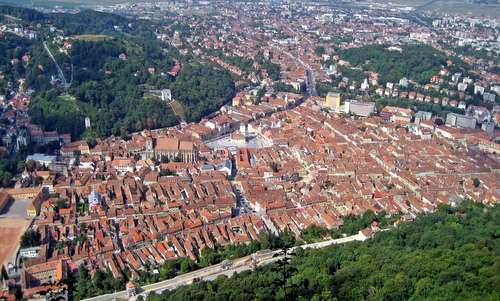 This mountain marathon race is held in Brașov, a city of 250,000 people, situated at the foot of the Carpathian Mountains in the Transylvania region in Romania.
The event features the following races:
1km/2km children's races (out and back through the city)
7km Cros (+310m/-310m of elevation change)
21km Semimaraton (+960/-960m)
38km Maraton (+1880m/-1880m)
Starting and finishing on the spacious and beautiful main square in Brașov's historic centre (pictured), all routes are very challenging and immensely scenic.
The 38km marathon takes runners up to Poiana Brașov — Romania's most popular ski resort — and to the highest peak of the Postăvaru Massif (1799m).
The views from the course are amazing!
Participants run on marked trails and gravel roads, and also on ski slopes and on the old 'Gabony's stairs', a spectacular route carved into the rocks.
The time limit to complete the course is four hours for the Cros, five hours for the Semimaraton, and eight hours for the Maraton.
Country: Romania
Venue (Map): Brașov (184km from Bucharest, 538km from Sofia, 578km from Belgrade, 589km from Budapest)
Date: 25 April 2015 (Saturday)
Race distance: 1km-2km (children), 7km, 21km, 38km

Start time: 8.00 (7km, 21km, 38km), 13.00 (children)
Start and finish: Piața Sfatului (Council Square), Brașov
Race centre: Cultural Centre 'Reduta' (Friday 14.00-21.00); in the start/finish area (on the day 8.0-9.00)
Entries: online; no entries on the day; 10 per cent off the entry fees for students; no entry fees for runners aged 60 years or over
Entry fees (children's races): no entry fees

Entry fees (7km): 50 RON (up to 15 February 2015), 60 RON (up to 10 April 2015)
Entry fees (21km/38km): 70 RON (up to 15 February 2015), 90 RON (up to 10 April 2015)
Exchange rate: 100 RON = ca. 22.60 EUR (November 2014)

Mandatory equipment (38km): hat/buff, rain jacket, long pants/shorts and long socks, water bottle

You get: T-shirt, certificate, medal, ...

Prizes: to the first 3 in each category
Number of finishers 2014: 66 (children's races), 74 (Cros), 137 (Semimaraton), 71 (Maraton)
Event website: www.brasovmarathon.ro
No guarantee is made as to the accuracy or thoroughness of the information on this page.