Zagreb (Croatia), Sunday 23 March 2014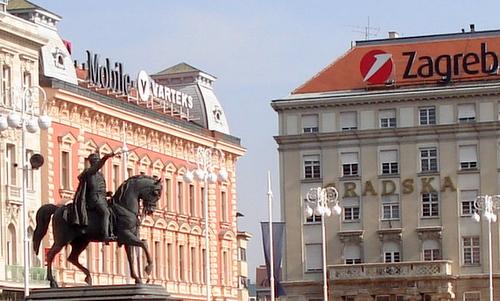 The race begins on Zagreb's main square (Trg bana Jelačića).
The 61.35km Supermaraton from Croatia's capital Zagreb to the old town of Čazma is one of Croatia's oldest and most prestigious running events.
Held since 1976, the race has attracted a large number of Central and Eastern Europe's best ultra marathon runners, notably from Hungary and Russia.
Starting on Zagreb's main square, the first 27km are run on a gently undulating and rather busy main road. Unfortunately, the course is not closed to traffic. The second half of the race is run on much quieter roads through rolling rural countryside. The finish line is at the church of Čazma, which sits on top of a hill, so the last kilometre is uphill!
Last year, the Supermaraton had 60 finishers, led home by János Zabari of Hungary (4:08:38) and Veronika Jurišić of Croatia (5:09:32).
The time limit to complete the course is seven hours.
Country: Croatia
Venue (Map): Zagreb - Čazma
Date: 23 March 2014 (Sunday)
Race distance: 61.35km
Start: at 8.00 on Trg bana Jelačića (Ban Jelačić Square) in Zagreb
Finish: in the town centre of Čazma
Entries: online or by e-mail, post or fax; entries close 18 March 2014; no entries on the day
Entry fees: no entry fees
You get: transport of personal clothing to the finish; finisher medal, certificate; a meal after the race; bus service from Čazma back to Zagreb after the race
Prizes: to the first 3 men and women, and to the winners of each category
Award ceremony: at 15.30 in Čazma
Number of finishers 2013: 60
Event details (in Croatian): www.cazma.hr/sport/supermaraton