Andechs (Germany), Saturday 26 April 2014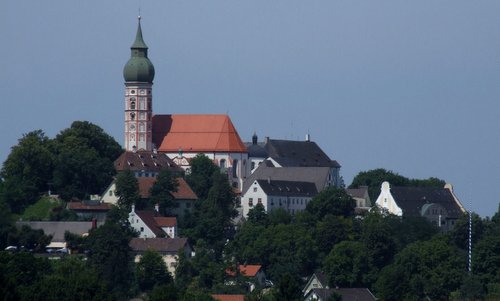 This trail running event in Germany's state of Bavaria offers two challenging races — the 8.4km 'Beginner Trail' and the 15km 'Expert Trail'.
Starting and finishing at Kloster Andechs, a Benedictine abbey that sits on top of a hill (the 'Holy Mountain'), both races are run over a hilly route, mostly on trails and gravel roads through woods and farmland.
Located 40 kilometres south-west of Munich, Andechs Abbey is an important pilgrimage site — not only for Christians but also for beer lovers. The monks of Andechs have more than 600 years of brewing experience, and a range of locally produced beers can be sampled at the abbey's 'Bräustüberl'.
Last year, the event had 316 finishers. The entry limit is 400 runners, and you can expect the race to fill up early.
Update: The Andechs Trail 2014 is sold out. (25 January 2014)
Date:
Country:
State:
Venue (Map):
Andechs (41km from Munich, 124km from Innsbruck, 183km from Salzburg)
Start area:
at the Andechs Abbey car park
Finish area:
at Andechs Abbey (on the Klosterberg hill)
Bib pick-up:
at the Kloster Andechs car park (on the day from 8.00)
Race distance
8.4km 'Beginner Trail' (+100m)
15km 'Expert Trail' (+285m)
Start time:
Entries:
online or by post or e-mail
race limit: 400 runners
Entry fees:
You get:
aid station on the course
snacks and drinks (including beer) at the finish
Showers and changing facilities:
Prizes:
product prizes to the best finishers and to the first three in each age group
Award ceremony:
at 13.00 at the Bräustüberl Kloster Andechs
Number of finishers 2014:
Event website (in German):
No guarantee is made as to the accuracy or thoroughness of the information on this page.