Chemnitz (Germany), Sunday 5 May 2013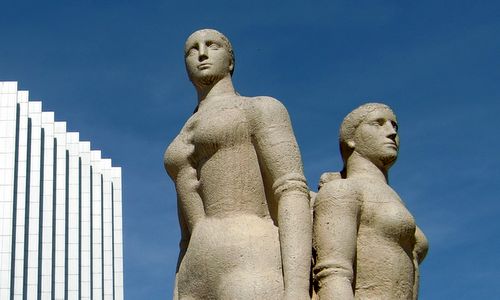 The Stadtlauf running series in Germany starts off in Chemnitz, a fascinating city with a population of about 240,000 and a long industrial heritage.
Situated in eastern Germany, the city was renamed Karl-Marx-Stadt by the GDR authorities in 1953, but it returned to its original name of Chemnitz in 1990.
Entrants can choose between the 5k, the 10k, or the half marathon.
Instead of a bib number, participants get a technical T-shirt which they must wear during the race.
The route is a flat 5-kilometre loop. Participants run through the new city centre (built within the last 20 years), along "Straße der Nationen" (a socialist-style boulevard), and around the Schlossteich (a very pretty small lake).
The start and finish are on Brückenstraße (previously named Karl-Marx-Straße), near the enormous 7.10-metre-high bronze head of Karl-Marx.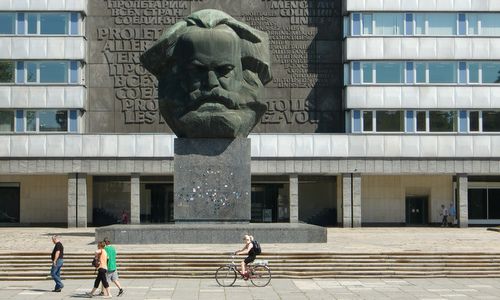 Start and finish will be near the Karl-Marx monument — the second-largest bust in the world.
Country: Germany
Venue (Map): Chemnitz (Dresden 77km, Leipzig 84km, Prague 167km, Berlin 260km)
Date: 5 May 2013 (Sunday)
Race distance: 5km; 10km; 21.1km; 300m (children 7 years and under); 2.5km (12 years and under)
Start time: 8.45-9.15 (children); 9.30 (5km); 10.30 (10km and 21km)
Start and finish: Brückenstraße
Entries: online (until 4 May 2013); late entries on 4 and 5 May 2013; race limit 3000 runners (children's races: 400 runners)
Entry fees (5km, 10km and 21km): € 20 (until 31 January 2013), € 25 (until 5 May 2013)
Entry fees (300m and 2.5km); no entry fees for the children's races
Timing: ChampionChip - use your own chip or buy a single-use chip for € 3
Race centre: Galerie Roter Turm (Saturday 14.30-20.00) Stadthalle (on the day from 7.30 until 30 minutes before the start)
You get: technical T-shirt; finisher medal; pasta party (on Saturday)
Prizes: to the first 3 M/F
Number of finishers 2012: 359 (5km), 567 (10km), 196 (21km)
Event website (in German): http://mein.sportscheck.com/sport/laufsport/events/stadtlauf_chemnitz
No guarantee is made as to the accuracy or completeness of the information on this page.