Karlovy Vary (Czech Republic), Saturday 19 May 2012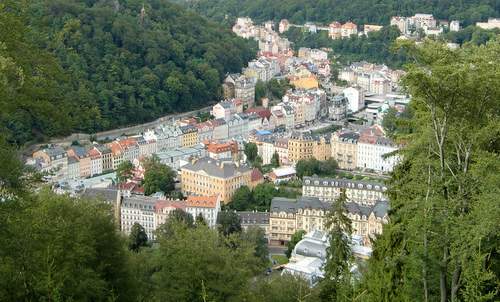 Running in the wooded hills where Goethe, Beethoven, Mozart, Chopin, Freud and many other European notables sought exercise and inspiration gives this trail running race in the Czech Republic an air of grandeur.
The Karlovarský STRC kros takes place in Karlovy Vary, the most famous of the Bohemian spa towns, widely known by its German name Karlsbad.
Participants run a 6.5-kilometre up-and-down loop on forest trails. The course features about 330 metres of climbing and 330 metres of descent.
The event forms part of a series of six trail running races in the Czech Republic.
In 2011, the top finishers were Jan Havlíček (25:54) and Pavla Schorná (29:06).
Country:
Venue (Map):
Karlovy Vary (127km from Prague, 164km from Dresden, 302km from Munich, 348km from Berlin)
Date:
Race distance:
6.5km (+330m/-330m)
1.6km ("Hobby Run")
200m, 800m (children)
Start time:
14.00-14.15: 200m, 800m
14.30: 1.6km
15.00: 6.5km
Start and finish:
Poštovní dvůr, Slovenská 2, Karlovy Vary
Entries:
online
late entries on the day
Entry fees:
CZK 100 (online entries)
CZK 200 (late entries)
no entry fees for children
Exchange rate:
Race centre:
Poštovní dvůr, Slovenská 2, Karlovy Vary (12.30-14.00)
You get:
entry into the prize drawing
Prizes:
Showers and changing facilities:
Award ceremony:
Number of finishers 2011:
Event website (in Czech):
www.strc.cz/strc-2012/karlovy-vary-2012
No guarantee is made as to the accuracy or thoroughness of the information on this page.