3. Plan de Corones Run 2012
Bruneck/Brunico (Italy), Saturday 9 June 2012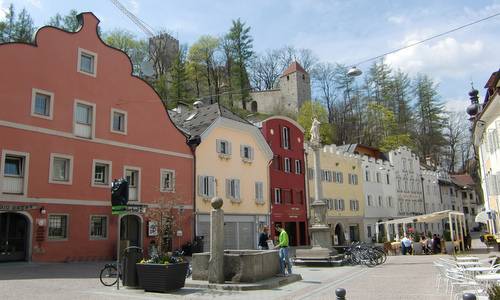 Start of the race is in Bruneck/Brunico.
The first two editions of the Kronplatzrun mountain race were relatively small events with less than 100 finishers, but it may be different in 2012 as several changes have been introduced.
The entry fees have been reduced, the course has been shortened from 30km to 25km, and the race has moved from September to June this year.
The event takes place in Italy's alpine province of South Tyrol ('Südtirol' in German, or 'Alto Adige' in Italian) where most people speak German as a first language.
Starting in the pleasant town of Bruneck (Brunico, 835m), the race is run entirely on asphalt and dirt roads. Overall, the course includes over 1500 metres of ascent.
The finish is on top of Kronplatz (Plan de Corones, 2275m), a massive mountain with a rounded top. In winter, Kronplatz is a popular ski area.
A 38km mountain bike race (Kromplatzbike), will be started 30 minutes before the running race.
Country: Italy
Venue (Map): Bruneck-Brunico (74km from Bolzano, 103km from Innsbruck, 184km from Villach)
Date: Saturday 9 June 2012
Race distance: 25km (+1540m)
Start time: 9.30
Start: Tschurtschenthaler Park, Bruneck (835m)
Finish: Kronplatz (2275m)
Entries: online (until 7 June 2012, 6pm); late entries on the day; runners must provide a medical certificate at registration and pay an extra € 5 if they are not members of an Italian athletics club
Entry fees: € 25 (until 30 May 2012), € 30 (until 9 June 2012)
Deposit for the timing chip: € 10 (fully refundable)
Race centre: Pädagogisches Gymnasium, Tschurtschenthaler Park, Bruneck (8 June 17.00-21.30; on the day 6.30-8.45)
You get: bus service from the cable car station in Reischach (at the foot of Kronplatz) to the start in Bruneck (7.30-9.00), transport of personal clothing from Bruneck to the finish; timing chip rental, technical finisher T-shirt, pasta party after the race, free use of the cable car from Kronplatz to Reischach
Prizes: (?)
Showers and changing facilities: (?)
Award ceremony: 14.00 at Restaurant Kron (on Kronplatz)
Number of finishers 2011: 85 runners, 57 cyclists
Event website (in German, Italian and English): www.kronplatzrun.com (out of date)
No guarantee is made as to the accuracy or thoroughness of the information on this page.
The route runs through the village of Sankt Lorenzen (San Lorenzo).