26th Plitvice Marathon 2011
Plitvice Lakes National Park (Croatia), Saturday 4 June 2011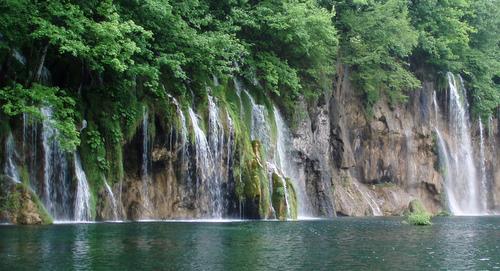 Around 200 runners completed last year's challenging marathon course through the Plitvice Lakes National Park in Croatia, and over 900 took part in the 16K and 5K races.
The route shows runners parts of the national park which tourists hardly ever see. Competitors run up and down densely wooded hills, through lovely meadows and remote villages, and along some of the famous blue-green lakes. You can't see the waterfalls from the course, however.
Marathon runners can expect to run at least 10 minutes slower than on a flat course. The difference between the lowest and the highest point on the course is about 250 metres. The climbs are not really steep but very long. Between kilometres 7 and 19 it's almost all uphill.
Apart from a very short section the race is on asphalt roads.
In early June, the weather in Plitvice is usually nice and very warm. Fortunately, a major part of the route is in the shade. But be aware that this is an area of extreme weather conditions. On some occasions, runners wore water-resistant jackets, gloves and woollen hats.
Finding accommodation shouldn't be difficult. There are several hotels and guest houses in and near the park, and the road from Karlovac to Plitvice is lined with "Sobe" (rooms) and "Zimmer frei" signs.
In 2010, the marathon winners were Hungary's Tamás Tóth (2:31:21) and Simona Staicu (2:52:54).
Country: Croatia
Venue (Map): Plitvice Lakes National Park (Zagreb 136km, Ljubljana 214km, Trieste 235km, Split 256km)
Date: 4 June 2011 (Saturday)
Race distance: 42.2km; 16km; 5km
Start time: 9.30
Start and finish: at Hotel Plitvice
Entries: online or by e-mail until 2 June 2011; payment in cash in Plitvice
Entry fees (42km): 120 HRK (ca. 16.20 EUR)
Entry fees (16km): 100 HRK (ca. 13.50 EUR)
Entry fees (5km): 80 HRK (ca. 10.80 EUR)
Race centre: on Friday 3 June (16.00-21.00) in the Restaurant Poljana; on the day (7.00-9.00) at the start
All runners get: T-shirt, finisher medal, certificate, free entry to the national park, pasta party on Saturday, lunch after the race
Prizes (42km): prize money to the first 10 M/F and to the first 5 M/F from Croatia; sponsor prizes to the first 3 in each category

Prizes (16km): prize money to the first 5 M/F; sponsor prizes to the first 3 in each category

Prizes (5km): sponsor prizes to the first 3M/F
Award ceremony: 15.00 in the start/finish area
Number of finishers 2010: 197 (42km), 365 (16km), 568 (5km)
Event website (in English and Croatian): www.plitvicki-maraton.com
No guarantee is made as to the accuracy or thoroughness of the information on this page.