Canazei (Italy), Sunday 24 July 2011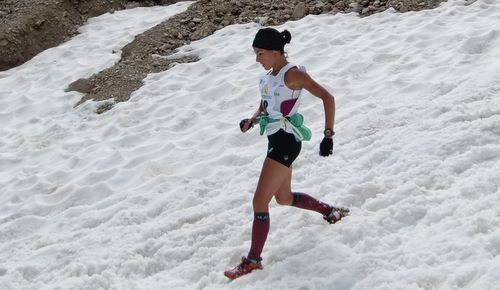 The Dolomites Skyrace is a spectacular up-and-down mountain race in northern Italy. Competitors run up to the summit of Piz Boè (3152m), the highest peak of the massive "Gruppo del Sella".
The start and finish are in the ski and holiday resort of Canazei (1450m), located in the Val di Fassa where most of the inhabitants speak Ladin as a first language.
The route is a 22-kilometre loop of trails, with 1750 metres of ascent and 1750 metres of descent.
Last year, the route was shortened due to snow and ice on parts of the course. The winners were Paolo Larger of Italy and Laetitia Roux of France.
The event forms part of the "SkyRunner World Series", which consists of sixteen highly challenging mountain running events in twelve countries.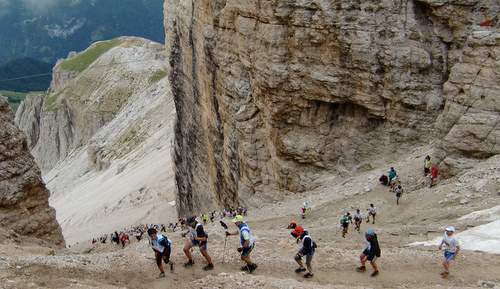 Race report and photos: 13. Dolomites Skyrace 2010

Country: Italy
Venue (Map): Canazei (50km from Bolzano, 138km from Innsbruck, 194km from Venice)
Date: 24 July 2011 (Sunday)
Start: 8.30 on Piazza Marconi in Canazei (1450m)
Race distance: 22km (+1750m, -1750m)
Entries: by e-mail or fax (until 20 July 2011); payment by bank transfer or credit card; entry limit 650 participants; entrants must provide a medical certificate at registration
Entry fees: 55 euros
Race centre: scuola di Sci Canazei Marmolada, Strèda del Piz, 12 a Canazei (22 July 16.00-19.00, 23 July 10.00-18.30, 24 July 7.00-9.00)
You get: a pair of "La Sportiva" running shoes; lunch after the race
Prizes: prize money to the first 10 men and women
Award ceremony: 14.00 on Piazza Marconi, Canazei
Number of finishers 2010: 544
Event website (in Italian and English): www.dolomiteskyrace.com
No guarantee is made as to the accuracy or thoroughness of the information on this page.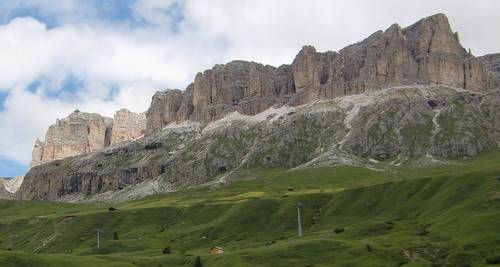 The route goes up and down the Gruppo del Sella.