8th "Mirage Run" 2011
Hortobágy National Park (Hungary), Saturday 9 July 2011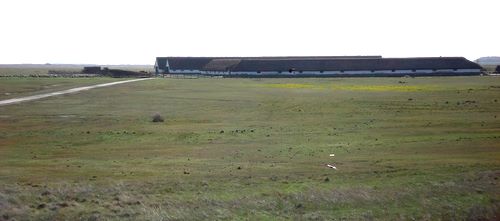 The Délibáb Futás is a unique trail running event in the Hortobágy National Park, a World Heritage Site, situated on the Great Hungarian Plain.
Participants run through the vast grassland of the Puszta, which stretches to the horizon. Along the route, they can expect to see long-horn grey cattle, buffaloes, long-wool Racka sheep, horses, and herdsmen in traditional costumes.
Although the route is pancake-flat the race is very challenging as it's held on a summer afternoon, when the sun is usually blazing hot, and there's no shade at all.
The main race is the half marathon, which consists of two laps - 7.8km and 13.3km. Entrants can also choose to run the first lap only, or to join the field on the second lap.
In 2010, over 800 runners took part in the event. The half marathon winners were Szabolcs Beda (1:18:19) and Vera Vass (1:30:28).
Country: Hungary
Venue (Map): Máta Stud, Hortobágy National Park (180km east of Budapest)
Date: 9 July 2011 (Saturday)
Race distance: 7.8km; 13.3km; 21.1km
Start time: 15.00 (21.1km and 7.8km); 13.7km runners join the half marathon field on lap two
Start and finish: Máta Stud (Mátai Ménes)
Entries: by post (until 1 July 2011), online (until 6 July 2011), or in person in Budapest (until 7 July 2011); late entries on the day from 12.00 until 15 minutes before the start
Entry fees (21km): 5000 HUF (until 3 July), 5500 HUF (until 9 July 2011)
Entry fees (13.3km): 3500 HUF (until 3 July), 4000 HUF (until 9 July 2011)
Entry fees (7.8km): 1600 HUF (until 3 July), 2000 HUF (until 6 July), 2500 HUF (until 9 July 2011)
Exchange rate: 1000 HUF = ca. 3.70 EUR (May 2011)
Timing: ChampionChip - no chip rental fees but 1000 HUF deposit (ca. 3.70 euros; fully refundable)
Race centre: at the start (on the day from 12.00)
You get: T-shirt; goody bag, timing chip rental, prize raffle; goulash party (not included in the entry fees)
Prizes: first 3 M/F (all distances)
Changing facilities and baggage storage: yes
Number of finishers 2010: 494 (21km), 121 (14km), 184 (7km)
Event website (in Hungarian): futanet.hu
No guarantee is made as to the accuracy or completeness of the information on this page! Please use an alternative source to verify the above information.