Innichen (Italy) - Sillian (Austria), Saturday 2 July 2011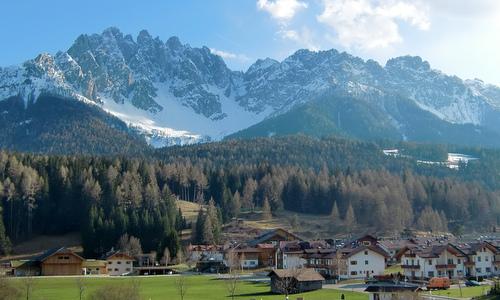 Start is in Innichen (San Candido) on the Italian side of the border.
This summer evening running event in the Alps starts in Italy and finishes in Austria. Runners choose between the half marathon and the 12.1k "Classic Run".
Competitors run along the cycleway that follows the River Drava in the green Hochpustertal (Hochpuster Valley). From start to finish, the route drops about 100 metres in elevation.
The start is in Innichen (Italian: San Candido), a popular holiday destination situated at an elevation of 1172 metres at the foot of the breathtaking Sexten Dolomites. Although in Italy, most people in this region speak German as a first language. Both races finish in the village of Sillian in Austria.
Participants in the 12.1k race run directly from Innichen to Sillian. Half marathon runners, however, carry on to the village of Tassenbach, from where they run back to Sillian.
In 2010, Edmund Lahner (37:35) and Donatella Vinci (46:44) celebrated victory in the 12.1k race. The half marathon winners were Markus Hohenwarter (1:08:14) and Marina Zanardi (1:23:54)
Country: Italy - Austria
Venue (Map): Innichen/San Candido - Sillian
Date: 2 July 2011 (Saturday)
Race distance: 12.1km; 21.1km (certified by AIMS/IAAF)
Start: 18.30 Atto Strasse in Innichen/San Candido (Italy); children's races start at 14.30
Finish: Marktplatz in Sillian (Austria)
Entries: online
Entry fees (12.1km): 13/15/17 euros (until 31 May/until 30 June/late entries)
Entry fees (21.1km): 16/18/20 euros
Entry fees (children): 6 euros
Timing: ChampionChip - use your own chip or rent a chip for 3 euros (30 euros deposit)
Race centre: Josef-Resch-Haus Innichen (2 July 2011, from 12.00)
You get: pasta party (Friday 20.00 in Sillian), medal, photo, shuttle bus service Innichen-Sillian-Innichen, transport of personal clothing to the finish
Prizes: trophies to the first 3 in each category
Showers and changing facilities: at the finish
Award ceremony: approximately 30 minutes after the race
Number of finishers 2010: 122 (12km), 115 (21km), 56 children
Event website (in German and Italian): www.hochpustertal-run.com
No guarantee is made as to the accuracy or thoroughness of the information on this page! Please use an alternative source to verify the above information.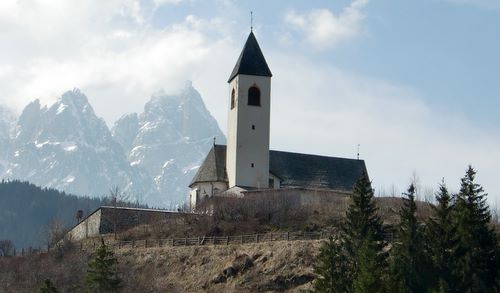 The route passes this church in Vierschach.