12th Half Marathon Jaska 2010
Jastrebarsko (Croatia), Sunday 23 May 2010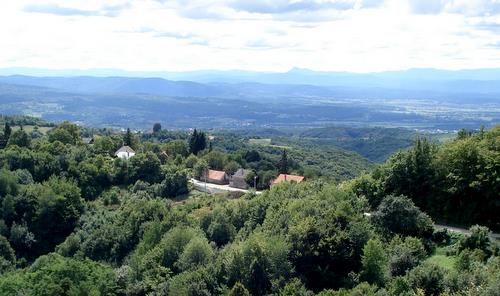 The Jaska Half Marathon follows a very hilly route through the lovely wine-growing region near Jastrebarsko, a small town located approximately 40 kilometres to the south-west of Croatia's capital Zagreb.
The start and finish are on the main square of Jastrebarsko (also called "Jaska" by the locals). The town is easy to reach as it's on the motorway and the railway line from Zagreb to the Adriatic Sea.
The race travels up and down the lower slopes of the densely wooded Žumberak-Samobor Hills (Žumberak-Samoborsko gorje). The route runs along quiet country lanes through fields, meadows, vineyards, woods and villages.
The first half of the course is mainly uphill, the second half downhill, but you should expect some short steep climbs in between.
In 2009, the winners were Janez Marojević, multiple Croatian Marathon Champion from the island of Hvar, in a time of 1:14:58, and Slovenia's outstanding masters athlete Ida Šurbek (1:28:29).
Country: Croatia
Venue (Map): Jastrebarsko (38km from Zagreb, 136km from Ljubljana, 207km from Graz, 208km from Trieste)
Date: 23 May 2010 (Sunday)
Race distance: 21km, 5km; children 1km/2km
Start time: 9.00-9.15 (children); 10.00 (21km, 5km)
Start and finish: Jastrebarsko town centre, Strossmayerov trg (Strossmayer Square)
Entries: on the day 8.00-10.00 (half marathon); 8.00-9.00 (other races)
Entry fees (5km): 30 HRK (ca. 4.15 EUR)
Entry fees (21km): 80 HRK (ca. 11 EUR)
Entry fees (children): no entry fees
You get: T-Shirt and lunch; half marathon finishers also get a medal and take part in the prize raffle
Prizes (5km): trophies to the first 3 M/F and to the first 3 in each category
Prizes (21km): trophies and paintings to the first 3 M/F; medals to the first 3 in each categories
Showers and changing facilities: yes
Presentation: 9.30 (children), 10.45 (5km), 13.00 (21km)
Number of finishers 2009: 172 (21km), 59 (5km)
Race details and elevation profile (in Croatian): www.akjastreb99.hr
No guarantee is made as to the accuracy or completeness of the information on this page.