Gazzetta Run Padova
Padua/Padova (Italy), Sunday 6 June 2010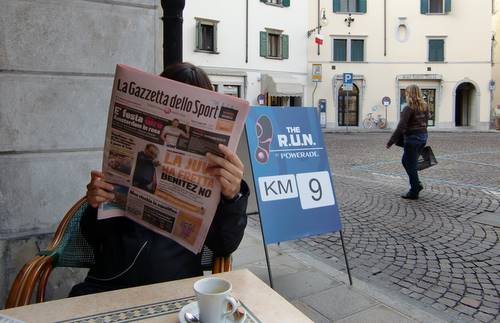 "The R.U.N." is a series of ten road running events in Italy, held from April to October.
All events offer distances of approximately 10km and 5km.
The fourth stage of the series takes place in Padua (Italian: Padova) in northern Italy, an old city of art and culture, located about 40 kilometres west of Venice.
Start and finish is on the elliptical Prato della Valle, one of the largest town squares in Europe. The route runs through Padua's attractive city centre (partly on cobblestones) and passes several historic landmarks like the Cathedral, the Basilica of Saint Anthony, the magnificent Palazzo della Ragione and the Renaissance city walls.
Participants in the 10k race, who want to appear in the results list (and be eligible for prizes), will have to provide a medical certificate at registration. Runners can take part in the race without a doctor's signature but their finishing times will not be measured. Athletes don't need a health certificate for the non-competitive 5k race either.
The entry fees for the non-competitive runs are a bit lower than for the competitive 10k, and all participants get a technical running vest.
"The R.U.N." is organized by the Italian sports tabloid Gazzetta dello Sport, which is famously printed on pink paper. The winners of each stage of the series are awarded a maglia rosa, a pink jersey that is usually reserved for the leading rider of the Giro d'Italia bicycle race.
Country: Italy
Venue: Padova (Venezia 40km, Verona 85km, Trieste 180km)
Date: 6 June 2010 (Sunday)
Distance: ca. 10km (competitive and non-competitive); ca. 5km (non-competitive)
Start time: 9.30
Start and finish: Prato della Valle
Entries: online, by fax or by e-mail until Friday 4 June 2010 (2pm); payment by credit card, by bank transfer, or in cash on the day; late entries for the non-competitive races on the day
Entry fees (10km competitive): 12 EUR
Entry fees (10km non-competitive): 10 EUR
Entry fees (5km non-competitive): 8 EUR
Race centre: at the start (8.00-13.00)
You get: Reebok running vest to all participants
Prizes (10km): prize money and sponsor prizes to the first 5 M/F; sponsor prizes to category winners
Presentation: soon after the race
Number of finishers 2009: ---
Event website (in Italian): www.gazzetta.it/therun/info-padova.shtml
No guarantee is made as to the accuracy or completeness of the information on this page! Please use an alternative source to verify the above information.