16th "Trail of Oil" Race
Deutschlandsberg (Austria), Sunday 11 April 2010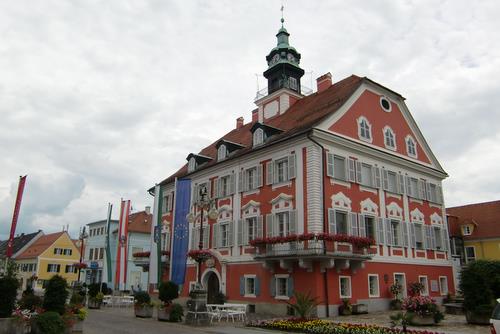 Start and finish is at Deutschlandsberg's town hall.
The Ölspurlauf in southern Austria is staged in a region that is well-known for the production of pumpkin seed oil, a culinary speciality with an intense nutty taste.
The event takes place one week after Easter in the small town of Deutschlandsberg, located in the foothills of the Koralpe mountain range and surrounded by fields, woods and vineyards.
Although it's an old town overlooked by a medieval castle, Deutschlandsberg has a mostly modern appearance, and there's not much to see apart from a few colourful buildings on Hauptplatz.

Start and finish is at the town hall on the main square, home of an 8.4-metre-tall Easter egg.
The 5k and 10k races start at 10am, the half marathon at 11.15am.
All races are held on a 2.5km-lap course through town. Half marathoners run eight laps with an additional 1.1km in the first lap. Each 21k-runner gets a lap counter not to get confused.
In 2009, Romania's Cristian Prasneac won the race, on a different course, in 1:13:22. First woman was Manuela Schrefler in a time of 1:36:31.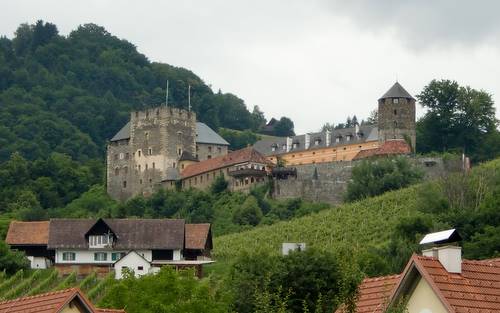 The town is overlooked by Burg Deutschlandsberg.
Country: Austria
Venue: Deutschlandsberg (Graz 41km, Maribor 65km)
Date: 11 April 2010 (Sunday)
Distance: 21.1km; 10km; 5km; 2.5km (children aged 14-17); 21.1km relay (teams of 4/8)
Start time: 9.00 (2.5k); 10.00 (5k, 10k); 11.15 (half marathon)
Start and finish: Hauptplatz
Race course: course map

Entries: online, fax or e-mail; payment by bank transfer; late entries on the day

Entry fees:
2.5km: 5/7 EUR (until 3 April/late entries)
5km: 15/20 EUR
10km: 18/23 EUR
21km: 21/26 EUR
Timing: ChampionChip - use your own chip or rent a chip for 3 EUR (25/30? EUR deposit)
Race centre: Koralmhalle (Saturday 10 April 12.00-20.00, and on the day 7.30-9.00)
You get: ?
Prizes: ?
Showers and changing facilities: Koralmhalle
Presentation: 12.00 (2.5k); 13.00 (5k/10k); 14.00 (half marathon)
Number of finishers 2009: 41 (2.5km), 85 (5km), 241 (10km), 143 (21km), 84 relay runners
Event website (in German): Oelspurlauf

Tourist information (in German): Deutschlandsberg, Ölspur

No guarantee is made as to the accuracy or completeness of the information on this page! Please use an alternative source to verify the above information.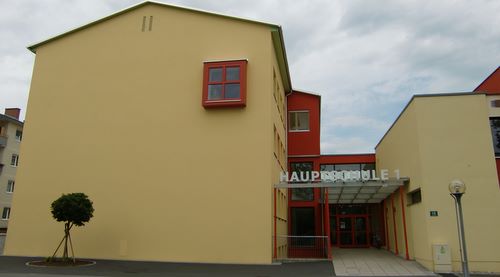 Deutschlandsberg has a mostly modern appearance.