Saturday 15 May 2021 - Cancelled!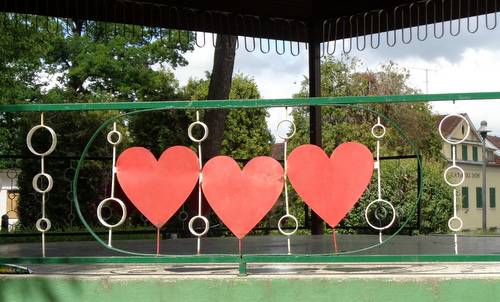 The Maraton treh src, or Three Hearts Marathon, is by far the biggest running event in the eastern part of Slovenia.
Held annually in May, it's an event for the whole family:
300m, 600m, 1km Veveričkin in srčkov tek (kids' races)
1km tek s kužki (1k run with dogs)
5km tek (5k run)
10km tek (10k run)
10km nordijska hoja (10k nordic walking)
10km pohod (10k hike)
21.1km polmaraton (half marathon)
42.2km maraton (marathon)
The start and the finish are at Hotel Radin in the Zdravilišče Radenci (Radenci Spa Resort) in the small town of Radenci.
The 1k, 5k and 10k races take place on Slovenian soil whereas the half and the full marathon cross the border into Austria for a visit of Bad Radkersburg, another spa town offering, like Radenci, relaxation in thermal pools.
Marathoners run a long loop through fields and villages in Slovenia and Austria, crossing the state border four times.
The route is gently undulating with a difference of about 35 metres between the lowest and the highest point on the course.
The time limit to complete the 42.2km race is six hours.
Map of the venue:
Number of finishers:
2020:

Event cancelled due to coronavirus outbreak

2019:

5km: 790
10km: 1,130
21.1km: 858
42.2km: 181

2018:

5km: 925
10km: 1,344
21.1km: 1,089
42.2km: 242
40. Maraton treh src:
Date:
15 May 2021 (Saturday) - Cancelled! Virtual Run only!
Event website:
No guarantee is made as to the accuracy or thoroughness of the information on this page.