Sunday 30 October 2022
The Röntgenlauf is a multi-terrain running event in the state of Nordrhein-Westfalen (North-Rhine Westphalia) in Germany.
Held annually on the last Sunday of October, the 63.3km ultramarathon takes runners largely along the Röntgenweg, a hiking trail around the city of Remscheid which sits in the hills of the Bergisches Land.
The start and the finish line are at the Sportzentrum Hackenberg in Lennep in the eastern part of Remscheid where Wilhelm Conrad Röntgen, the first person to detect X-rays, was born in 1845.
The route is challenging and varied and scenic, and it offers many fine views of the region's rich industrial heritage, for instance of the graceful Müngstener Brücke (Müngsten Bridge), Germany's highest railway bridge (pictured below):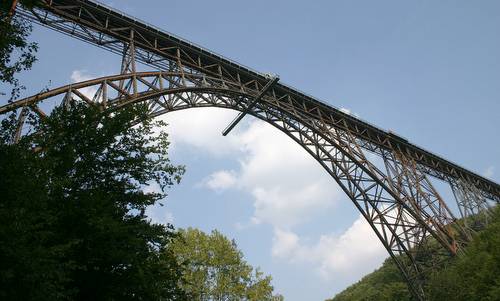 In case 63.3km is not your distance have a look at these race options:
Crossläufe (cross races):


400m-800m-1,250m-2,450m races for children aged 15 years and under.

5km

Run one lap through the eastern part of Remscheid.

10km:

Run two laps through the eastern part of Remscheid.

Halbmarathon (half marathon):


Run or walk the first 21.1km of the ultramarathon course.

Marathon:

Run the last 42.2km of the ultramarathon course.
or: Drop out of the ultramarathon race at the 42.2km mark.

Ultra-Staffel (ultra relay):

Grab two friends and run the ultramarathon as a relay (3 x 21.1km).
In some years (for instance in 2022), it is also possible to run 100km.
Map of the venue:
20. Röntgenlauf:
Date:
Event website:
No guarantee is made as to the accuracy or thoroughness of the information on this page.