Sunday 13 October 2019
Held annually in October in the city of München (Munich), capital of Germany's state of Bayern (Bavaria), the München Marathon is a popular road running event that attracts runners from all around the globe.
The 2018 event saw more than 17,000 compete in these four races:
10km
21.1km Halbmarathon (half marathon)
42.2km Marathon
42.2km Marathonstaffel (marathon relay; four runners per team)
In order to avoid overcrowding on the course, the races are started one after the other.
Start and finish (see map below):
The full marathon, the relay and the 10k race begin and end in the Olympiapark in the north-western part of the city. The start is on Coubertinplatz in front of the Olympiastadion (Olympic Stadium) which was built for the Olympic Games 1972.
Participants in the half marathon run the second half of the marathon course, starting on Denninger Straße in the borough of Bogenhausen in the eastern part of Munich.
All races end on the athletics track of the Olympic Stadium (pictured above).
Route:
The race course is mainly flat and fast.
Participants in the 10k race run the first five and the last five kilometres of the marathon. The route takes the runners out and back to the Siegestor, a triumphal arch in the northern part of the city centre.
Half and full marathon runners run through the city centre as well, passing many of Munich's outstanding sights, including the magnificent Neues Rathaus (New Town Hall) on Marienplatz, the main square (pictured below).
The full marathon also features a 7km-long loop through the Englischer Garten, Germany's largest urban public park (between the 8km and 15km marks).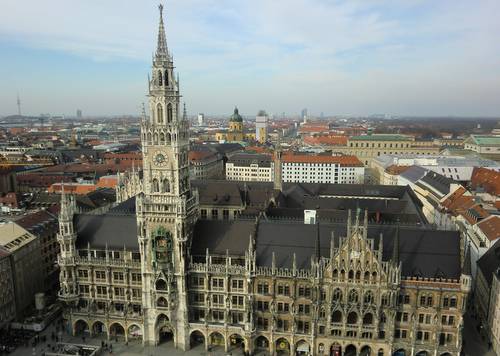 Date:
Race information:
blue: start area 10km and 42.2km
green: start area 21.1km
red: finish area
Archive:
Race information:
No guarantee is made as to the accuracy or thoroughness of the information on this page.