Radoboj (Croatia), Sunday 16 October 2016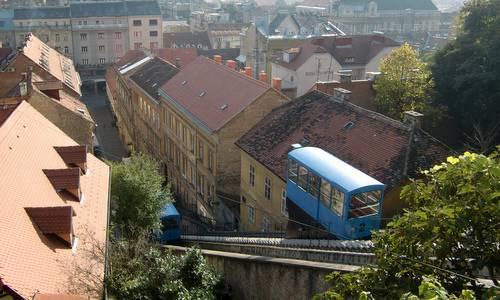 Since last year, the Radobojski maraton, which is by no means a marathon because the race is just 15.2km long, has a new name — Radobojska uspinjača ("Radoboj funicular").
The new name may be misleading as well as there's no such thing as a funicular in the village of Radoboj which nestles amid the hills of the Hrvatsko zagorje, a very beautiful rural region in northern Croatia.
The nearest funicular is the Zagrebačka uspinjača in the city centre of Zagreb (pictured), about 58km south of Radoboj.
But as a participant in the Radobojska uspinjača you might wish there were a funicular to help you tackle the most demanding portions of the course. The race features an endless succession of ascents and descents, some of them very steep with slopes of up to 18%!
The difference between the lowest and the highest point on the course is 164 metres. Overall, the route includes 485m of ascent and 485m of descent. And it's not made any easier by the fact that the race is run entirely on asphalt roads.
It's all worth the effort, however. The route is very scenic, taking the runners through fields, woods, vineyards, vegetable plots and scattered villages.
Country: Croatia
Venue (Map): Radoboj (44km from Varaždin, 58km from Zagreb, 62km from Maribor)
Date: 16 October 2016 (Sunday)
Race distance: 15.2km (+485m/-485m)
Start time: 11.00
Race centre: on the day 9.00-10.30 at the Osnovna škola Side Košutić (Sida Košutić Primary School)
Entries: online
Entry fees: no entry fees
You get: a meal and drinks after the race; changing facilities
Prizes: prize money to the first 5 men and 5 women; medals and product prizes to the best finishers in each age group
Number of finishers 2015: 57
Event website: www.utrka.com/utrke/uspinjaca/2016/info
No guarantee is made as to the accuracy or thoroughness of the information on this page! Please visit the official event website to verify the above information.