2nd 'Pilsen Region Half Marathon' 2016
Plzeň (Czech Republic), Saturday 23 April 2016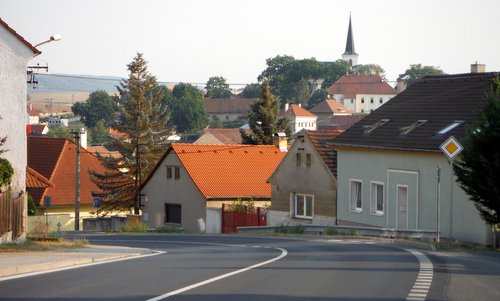 The Půlmaraton Plzeňského kraje ('Plzeň Region Half Marathon') takes place in the Plzeňský kraj (Plzeň Region) in the Czech Republic.
The race begins and ends at the modern Škodaland sports complex which is situated at a reservoir in the southern part of Plzeň (Pilsen), the city where Emil Škoda founded the Škoda Works in 1859, and which is well known for its outstanding Pilsner beer.
With a difference of almost 100 metres between the lowest and the highest point on the course, the route is rather challenging. Overall, the half marathon includes 373m of ascent and 373m of descent. The course is accurately measured and certified.
The route runs through rural areas and villages between Plzeň and the town of Dobřany in the Okres Plzeň-jih (Plzeň-South District).
In 2015, about 500 runners took part in the půlmaraton. The fastest finishers were Nobuyuki Yamaguchi (1:19:42) and Eva Potůčková (1:36:47). The time limit to complete the course is three hours.
In addition to the half marathon, the event offers two more road races (approximately 5km and 10km long) as well as a number of children's races.
The 10k is two laps. All routes will be closed to traffic for the time of the race.
Country: Czech Republic
Venue (Map): Plzeň (Prague 97km, Nuremberg 200km, Linz 234km, Munich 273km)
Date: 23 April 2016 (Saturday)
Race distance:
100m-400m-800m-1200m ("Dětské běhy" - children's races)

5.85km ("Krajská pětka")

9.59km ("Krajská desítka")

21.1km ("Půlmaraton Plzeňského kraje")

Start time: 11.00 (21km), 11.10 (5km, 10km)

Start and finish: Škodaland
Race centre: Škodaland (Friday 22 April 2016, 17.00-20.00; on the day 7.00-10.30)

Entries: online; late entries on the day (7.00-10.00)

Entry limit: 200 runners (5km), 200 runners (10km), 1600 runners (21km)
Entry fees: 300 CZK (up to 22 April 2016), 450 CZK (on 23 April 2016)
The entry fees are the same for all three races.

Exchange rate: 100 CZK = ca. 3.70 EUR (December 2015)

Timekeeping: bib chip timing (included in the entry fees)
You get: goodie bag, refreshments on the course and at the finish, finisher medal; entrants can order a technical T-shirt for 300 CZK (up to 31 March 2016)

Showers, changing facilities, bag storage: yes
Prizes: to the first 3 men and women (5km, 10km, 21km); to the first 3 in each age group (21km)

Award ceremony: between 13.00 and 15.00

Number of finishers 2015: 171 (5km), 257 (9km), 491 (21km)
Event website: pulmaraton.plzensky-kraj.cz

No guarantee is made as to the accuracy or thoroughness of the information on this page! Please visit the official event website to verify the above information.