3. najlepši in najtežji mali maraton 2015
Sveti Andrej, Škofja Loka (Slovenia), Saturday 11 April 2015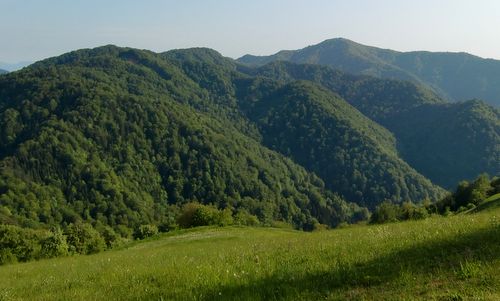 The self-proclaimed "most beautiful and most difficult half marathon" features a highly scenic and challenging route indeed.
Held in the wooded hills between Slovenia's capital Ljubljana and the Julian Alps, the 21.1km route includes 1300 metres of ascent, and the same of descent.
Starting and finishing in the hamlet of Sveti Andrej, which sits at an elevation of about 600 metres on a ridge above the old town of Škofja Loka, participants run across the summits of three hills — Sveti Ožbolt (859m), Tošč (1021m), and Osolnik (858m).
The race is run mostly on trails and gravel roads. It's allowed to use hiking poles.
In 2014, the fastest finishers were Marjan Zupančič (1hr 50min 32sec) and Valerija Mrak (2hr 10min 41sec). The last finishers crossed the line after about 4hr 30min.
Race information — 3. najnaj21

:

Country: Slovenia

Venue (Map): Sveti Andrej (Škofja Loka 5km, Ljubljana 26km, Klagenfurt 75km)

Date: 11 April 2015 (Saturday)

Race distance: 21.1km (+1300m/-1300m)

Start time: 10.00

Start and finish: Gostišče Rupar, Sveti Andrej 38, 4220 Škofja Loka

Race centre: in the start area (on the day from 8.00)

Entries: online (from 1 December 2014); entries close 8 April 2015

Entry fees: € 13

You get: five aid stations along the course and one at the finish

Number of finishers 2014: 217 (163 men, 54 women)

Event website: www.najnaj21.si

No guarantee is made as to the accuracy or thoroughness of the information on this page.