Zagreb - Marija Bistrica (Croatia), Saturday 31 March 2012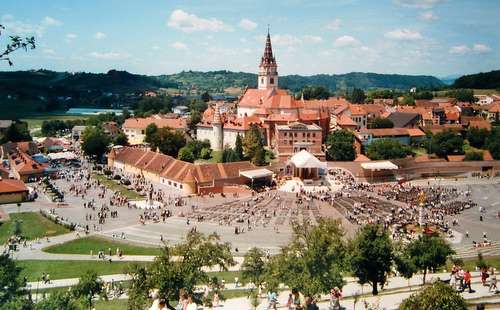 A new mountain marathon running race will be held at the end of March 2012 in Croatia. The KAJ maraton will offer a 42.2km marathon, a 21.1km half marathon, a relay marathon race for teams of two runners, and a 30km trekking route.
Starting at the Zagreb Cathedral, participants will run along a pilgrimage route ('Marijanski hodočasnički put') across the densely-wooded Mount Medvednica.
Half marathon runners will finish the race on the mountain whereas marathon runners will cross the ridge of the mountain and run downhill to the finish line in the small town of Marija Bistrica (pictured) which is home to Croatia's most important Marian shrine, a wooden statue of a Black Madonna.
The first 23 kilometres will be run uphill on asphalt roads, the following 19 kilometres downhill on marked forest trails. The marathon route includes approximately 1,000 metres of climbing and 1,000 metres of descent. There will be aid stations every seven kilometres.
Race information:
Date:
Country:
Venue (Map):
from Zagreb to Marija Bistrica
Race distance:
42.2km (+1000m/-1000m)
21.1km (+800m)
2 x 21.1km relay
Start:
at 10.00 in Kaptol (in front of the cathedral), Zagreb
Finish (21.1km):
Puntijarka (on Mount Medvednica)
Finish (42.2km, relay):
Bluesun Hotel Kaj, Marija Bistrica
Entries:
online
late entries on the day
runners who register online and pay a deposit of HRK 50 by bank transfer (up to 23 March 2012, 16.00) will receive a T-shirt
Entry fees (42.2km):
Entry fees (21.2km, relay, trekking):
Bib pick-up:
in the start area in Kaptol, Zagreb (on the day 8.30-9.30)
You get:
T-shirt (for advance entries)
transport of personal clothing
bus service for relay and half marathon runners (Zagreb-Puntijarka-Marija Bistrica)
finisher medal (42.2km)
a meal after the race
bus service after the race (from Marija Bistrica to the tram station Dubec in the eastern part of Zagreb)
Prizes:
hotel vouchers to the first man and first woman in the marathon
product prizes to the first man and first woman in each age group
medals to the first three in each age group
Showers and changing facilities:
Award ceremony:
at 16.00 in Marija Bistrica
Event website (in Croatian):
No guarantee is made as to the accuracy or thoroughness of the information on this page.