Canazei (Italy), Sunday 22 July 2012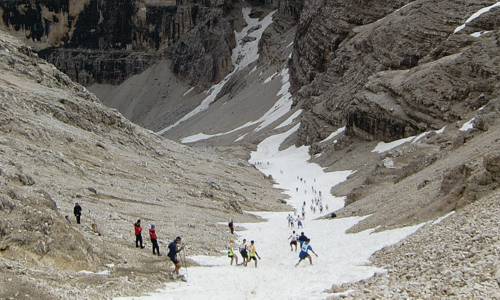 Held on a spectacular 22-kilometre trail course in the Dolomites in northern Italy, the Dolomites Skyrace attracts around 600 mountain runners from around the world.
Only experienced mountain runners should aim to run this highly demanding race. The route is an up-and-down loop which features 1750 metres of ascent and 1750 metres of descent.
Start and finish are in the ski and holiday resort of Canazei (1450m). The highest point on the course is at an elevation of 3152 metres on the summit of Piz Boè, the highest peak of the "Gruppo del Sella" massif.
Runners must carry a windbreaker jacket with them as the race takes place in a high-alpine environment. In the last two years, the course had to be shortened due to bad weather and snow on the course.
The time limit to complete the race is 4 hours 15 minutes.

Country: Italy
Venue: Canazei (Bolzano 50km, Innsbruck 138km, Venezia 194km)
Date: 22 July 2012 (Sunday)
Start: 8.30 on Piazza Marconi in Canazei (1450m)
Distance: 22km (+1750m, -1750m)
Route: course map

Entries: by post, fax or e-mail (until 18 July 2012); payment by bank transfer or credit card; entry limit 700 runners; entrants must provide a medical certificate at registration
Entry fees: € 55/65/70 (until 10 July/until 18 July/after 18 July 2012)

Race centre: scuola di Sci Canazei Marmolada, Strèda del Piz 12, Canazei (20 July 15.00-19.30, 21 July 11.00-18.30, 22 July 7.00-8.15)
You get: a pair of running shoes; lunch after the race
Prizes: prize money to the first 10 men and women
Award ceremony: 14.00 on Piazza Marconi, Canazei
Number of finishers 2011: 617

Event Website (in Italian and English): Dolomites Skyrace

Contact: This e-mail address is being protected from spambots. You need JavaScript enabled to view it
No guarantee is made as to the accuracy or completeness of the information on this page! Please use an alternative source to verify the above information.