Sunday 15 April 2018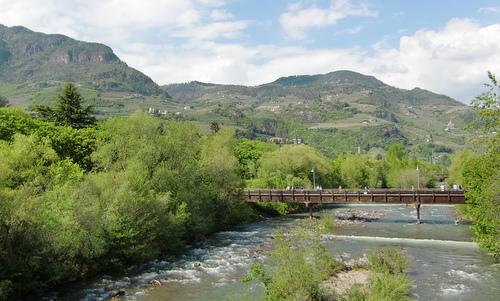 The Vivicittà is a running event held every year simultaneously in many cities all over Italy and in several cities around the world, promoting sport per tutti ("sport for all"), respect for the environment, peace, human rights, social equality and the solidarity between different cultures.
Here, we provide information on the Vivicittà in Bolzano (German: Bozen), capital of Italy's strikingly-beautiful alpine province of South Tyrol, where many people speak German as a first language.
You will have to provide a certificato medico sportivo at registration if you want to take part in the 12km race.
You don't need a medical certificate, however, for the non-competitive 6km run.
The 6km run is one lap and the 12km race is two laps of a very scenic loop course that begins and ends at the Tribunale di Bolzano (district court) in the western part of the city.
The route runs on roads and cycleways through urban and green areas and along two rivers, the Talvera and the Isarco. It also crosses two foot bridges across the Talvera (pictured above).
Date:
Race distance:
6km (non-competitive fun run)
12km (competitive race)
Race information:
Map of the venue:
No guarantee is made as to the accuracy or thoroughness of the information on this page