Keszthelyi Kilométerek (KKM) is a popular running event that draws approximately 1,500 runners to Keszthely, an old town of about 20,000 people, located at the western tip of the 79km-long Balaton, Central Europe's largest lake.
The event begins with the children's races on Saturday morning, followed by the 2.5km and 5km races in the afternoon.
The 10.55 quarter marathon, the 21.1km half marathon and the 42.2km marathon are held on Sunday.
Both the half and the full marathon are open to individual runners and relay teams (2 x 10.55km; 4 x 10.55km).
Starting on Fő tér, Keszthely's main square, the route is an undulating 10.55km-long loop which visits two of western Hungary's outstanding sights — the lakefront of Lake Balaton and the park of the grand Festetics Palace: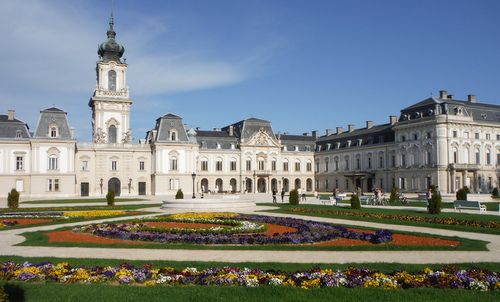 The event was last held in May 2018. In the autumn 2018 it was announced that it will not be held any more in the future.
Race information:
Map of the venue:
No guarantee is made as to the accuracy or thoroughness of the information on this page.